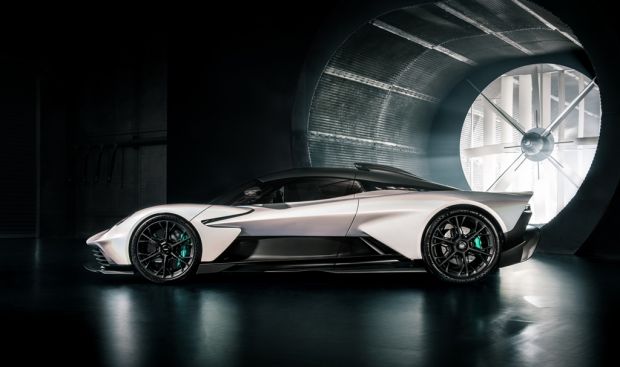 Formula 1® intensifies development of Aston Martin Valhalla supercar
27th September 2023
Aston Martin Valhalla, the ultra-luxury brand's first series production mid-engine supercar, is reaping the benefits of the world's fastest laboratory, Formula 1®. Technological development in F1® is accelerated by the need for speed, reliability and performance. Race proven methodologies, expertise and technologies used by the Aston Martin Aramco Cognizant Formula One® team (AMF1) are being adopted by Aston Martin to intensify the development of future models.
Marco Mattiacci, Global Chief Brand and Commercial Officer of Aston Martin said: "Aston Martin's vision is to build a range of exceptional, class-leading driver focused cars, crucial in the expansion of our core product line-up. As such our first series production mid-engine supercar will be transformational for this ultra-luxury performance brand as well as for the mid-engine segment. Valhalla represents Aston Martin's first joint development integration between our road car engineers and Aston Martin Aramco Cognizant Formula One® team's F1® engineering capabilities through Aston Martin Performance Technologies and demonstrates Aston Martin's breadth of capabilities with the technical support and expertise of Formula 1®."
The technical crossover between Aston Martin and its eponymous Formula 1® team, which currently sits in fourth place in the FIA Formula One World Constructors' ChampionshipTM, is facilitated by the consulting arm of the team, Aston Martin Performance Technologies (AMPT). AMPT is directly assisting Aston Martin's performance engineering team in three key areas of development - dynamics, aerodynamics and materials.
Claudio Santoni, Aston Martin Performance Technologies Engineering Director, said: "It is a great advantage for a car manufacturer to have access to the unique skills and knowledge of a Formula 1® team. F1® engineers are constantly pushing the boundaries in the pursuit of performance and have developed rapid problem-solving tools. With this knowledge 'in house' we can seamlessly bring F1® expertise to road car development."
The first running prototype will take to the road later this year, with Valhalla set to enter production in 2024.
Older

Articles