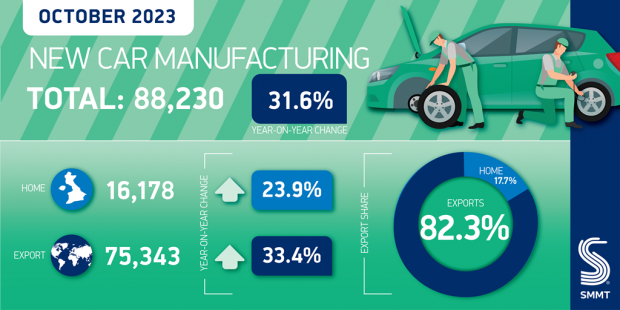 UK car production up again as inward investment surges
30th November 2023
UK car production output surged 31.6% in October, according to the latest figures published today by the Society of Motor Manufacturers and Traders (SMMT). In the eighth month of growth this year, 91,512 units left factory gates marking the best October performance since 2019. The news follows recent announcements of significant investment into advanced automotive manufacturing, with some £4 billion committed by Government and industry combined in November alone, a massive vote of confidence in the sector.1
Production for both the home and overseas markets grew in October, up 23.9% and 33.4% respectively, although it was exports which drove output. More than eight in 10 (82.3%) cars were shipped abroad, representing 75,343 units, while 16,178 cars stayed in the UK. Export growth was driven by rising shipments to the EU, up 58.5%, which remains our largest market by far accounting for almost two-thirds of exports (65.2%), and Turkey, which grew almost four-fold to make it the third largest market above the US, China and Japan.
UK production of battery electric (BEV), plug-in hybrid (PHEV) and hybrid (HEV) vehicles also rose, crucial models that will help deliver net-zero, cutting edge jobs and economic growth. Combined output grew 52.1% to represent four-in-10 (40.1%) of all cars made in the month, a near record high. Since January, UK factories have turned out 287,408 of these models, up 59.1% on the year before and helping push overall car production up 16.7% to 751,422 units.
Mike Hawes, SMMT Chief Executive, said, "These figures, coming on the back of a series of significant investment announcements, signpost a bright 2024 for the UK automotive sector. Government and industry are committing billions to transform the industry for a decarbonised future. Last week's publication of an Advanced Manufacturing Plan and Battery Strategy, the announcement of permanent full expensing in the Chancellor's Autumn Statement and the £2bn commitment Government has made to advanced automotive manufacturing, underscore the increasing competitiveness of the UK. Automotive remains one of the country's most critical industries, delivering jobs, productivity and economic growth across the country."
Given the strong manufacturing performance and recent round of investment into UK vehicle manufacturing, the latest independent light vehicle production outlook has been revised up accordingly. It anticipates UK vehicle makers producing 1,008 million cars and light vans in 2023, up 18.0% on last year, with further growth anticipated in 2024.2
This outlook is predicated on a workable solution to the EU-UK rules of origin requirements for batteries, which are due to get tougher from 1 January 2024. These rules, if implemented, could see the application of tariffs on electric vehicles traded across the Channel in both directions, risking electric vehicle production and sales in both the UK and EU. With mere weeks remaining to find a solution, the industry is once again urging all parties to delay their introduction until 2027, a pragmatic solution to allow time for the pan European battery supply chain to ramp up production.
Older

Articles