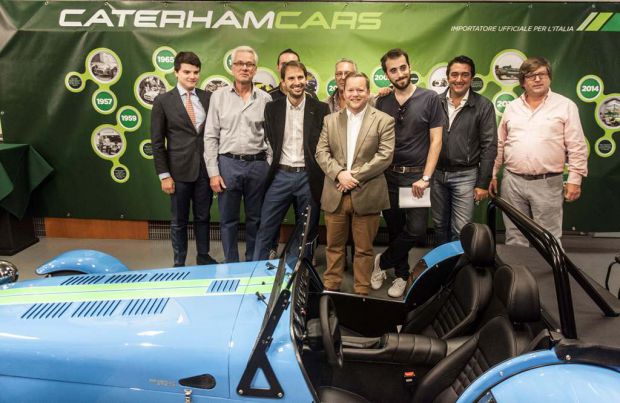 Caterham Cars opens new showroom in Italy
30th September 2015
British sportscar manufacturer, Caterham Cars, has expanded its growing European dealer network with the appointment of Borghi Automobili as a new distributor in Italy's fashion capital, Milan. Borghi Automobili was established in 1919 and has almost a century's experience in selling exotic sportscars from all over the world.
The appointment re-establishes Caterham's presence in Italy and the full European range of Caterham's iconic British sportscars - including the Seven 165, the brand-new Seven 275, and Europe's most powerful Seven; the 485 - will be available, as well as Caterham Academy and R300 race cars. In addition to catering for new customers, Borghi Automobili also offers Italian customers a full after sales service.
To celebrate its appointment as an official dealer, Borghi Automobili held a launch event on Friday 25thSeptember at the showroom and showcased the recently released Seven 275 S and Seven 275 R models alongside the Seven 165 S.
Tim Flear, British Consul General and Director of UK Trade & Investment (UKTI) Italy, attended the event as well as members from the local Caterham Seven owners club.
David Ridley, Caterham Chief Commercial Officer, said: "We are delighted that our new partnership with Borghi Automobili allows us to once again deliver our cars to sportscar enthusiasts in Italy."
"We're looking forward to working with the vastly experienced team at Borghi Automobili to keep building on our success in the European market."
Borghi Automobili is located on Via Stendhal 59, 20144 Milano.
For Borghi Automobili enquiries please contact the showroom on (+39)02 47 40 51, orinfo@BorghiAutomobili.it.
Older

Articles