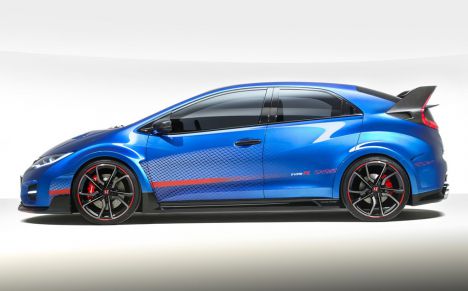 More details released of new Civic Type R
29th September 2014
With the automotive world about to descend on the Paris Motor Show 2014, Honda has released further details of the eagerly anticipated new Civic Type R.
The all-new hot hatch – due in UK showrooms next year – will be the most extreme and high-performing Type R in the 22 year history of the red 'H' badge, signalling the start of a new performance era for the brand.
Power will come from a 2.0-litre i-VTEC engine from Honda's next-generation Earth Dreams Technology series. Producing more than 280 PS, it will deliver unmatched performance against any previous Type R, including all generations of the Civic, the iconic performance-oriented versions of the Integra, Accord and even the NSX.
While complying with strict Euro 6 emissions regulations, this is a Honda Type R powerplant like no other. With its predecessors naturally aspirated, the new unit benefits from a turbocharger, boosting low-end power delivery. Combined with the high-end performance synonymous with Honda's VTEC technology – and much-loved by fanatical Type R owners – the new model promises to deliver a sensational driving experience.
The new Type R will mark the debut of the new '+R' button, for example. Located to the side of the steering wheel, a press activates '+R' mode for the most exhilarating driving experience. Engine responsiveness is heightened, with torque-mapping changed to a more aggressive and performance-focused setting. Steering becomes more responsive which, together with the new four-point Adaptive Damper System, delivers the ultimate handling experience.
The all-new Civic Type R has been developed and engineeredfor European drivers. The car will be built at Honda's state-of-the-art plant in Swindon, UK, arriving in dealerships during 2015.

Older

Articles