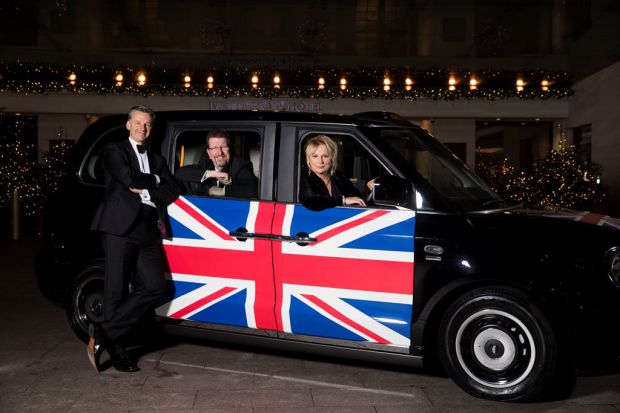 Jennifer Saunders arrives in Great British style at SMMT dinner
29th November 2017
Great British comedian, actress and writer Jennifer Saunders made a stylish entrance to the Society of Motor Manufacturers and Traders (SMMT) Annual Dinner this evening. Helping the Society celebrate its 101st Dinner, she arrived at London's Grosvenor House Hotel in another national icon – a union jack decorated, all-new, electric Black Cab.
A self-confessed petrol head, Jennifer entertained an audience of more than 1,100 guests from the sector and government with her humorous look at how the shapes and sizes of cars have changed over the years, and what the prospect of driverless cars means for humans. Jennifer's car collection has been almost as diverse as the UK Automotive industry itself, ranging from Alfa Romeos and Porsches to Jaguars and Land Rovers. In 2007, she appeared on BBC's Top Gear as its star in a reasonably priced car, clocking up the fifth fastest-ever lap time in the car used in that period.
One of the most influential figures in British comedy over the past 20 years, Jennifer first found success as one half of the award-winning double act French and Saunders. She went on to write and star in the BAFTA and Emmy-winning TV show, Absolutely Fabulous, which received worldwide acclaim.
She has guest-starred in Roseanne and Friends, and won a People's Choice Award for voicing the evil Fairy Godmother in Shrek 2. She has written and starred in countless TV shows, sketches for Comic Relief, and the Ab Fab movie, as well as numerous other appearances in film and television. Together with her comedy partner Dawn French, she produces a semi-regular show for Radio 2, and the pair were awarded the prestigious BAFTA Fellowship award in 2009.
Jennifer Saunders said, "I was delighted to be part of such a wonderful night for the automobile industry."
The new range-extended electric TX taxi is designed, engineered and manufactured in Britain by the London EV Company (formerly the London Taxi Company). It is the result of a £325 million investment in the manufacturer's new Coventry plant, with some 1,000 new jobs created to produce this and other electric vehicles at the site. Collectively, the UK Automotive industry employs some 814,000 people and manufactures 1.7 million cars each year – with eight in 10 of them exported to customers in more than 160 countries worldwide.
SMMT is one of the largest and most influential trade associations in the UK and represents 800 companies across the entire automotive sector. In 1902, Frederick Simms, a British engineer, believed the motor industry needed a representative body to provide leadership, protection and direction and, on 22 July 1902, SMMT was created. An annual SMMT lunch became a fixture in the calendar, later changing to a dinner, which was postponed only when the country was at war.

Older

Articles