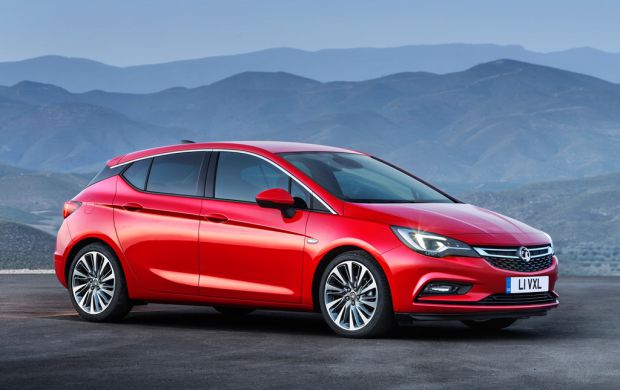 Vauxhall Astra Best Family Car at Car Buyer 2017 awards
30th November 2016
Vauxhall's all-new Astra has been recognised as the Best Family Car at the Carbuyer Best Cars 2017 Awards. This latest win adds to what has been an outstanding year of awards for the all-new Astra, securing its position as one of the top new models on the market.
The multi award-winning Astra picked up the accolade in the Best Family Car category, and was commended for its design, value for money and build quality. The Carbuyer Best Cars Awards are focused on what matters to buyers, honouring the winners with the title of best in their respective classes. Winning models are recognised as meeting, or surpassing, the standards that Carbuyer has identified across key buying factors such as style, space and running costs.
This latest win follows on from a trio of Carbuyer Car Tech Awards for Vauxhall, who picked up the titles of Tech Car of the Year and Best Self-Parking System for the new Astra, as well as Best Safety Innovation for Vauxhall OnStar.
"The latest Vauxhall Astra has been on sale since late 2015, and it's fair to say it's the best family hatchback the company has ever made. The Astra is better built, more aesthetically pleasing and more economical than any of its predecessors," commented Stuart Milne, Editor of Carbuyer. "We rate it as the best family car you can buy today, thanks to its blend of modern technology, excellent value for money and superb overall ownership experience."
Stuart Harris, Vauxhall's Head of Carline Brand, said: "This award adds to what has been an extremely successful year for the new Astra. It has proven itself in many categories and now has been singled out as one of the best family cars available on the market."
"The Astra is a strong contender in every aspect. The latest technology, thanks to OnStar, offers excellent levels of connectivity and safety, while the latest design offers a great look without compromising on space for the family."
The all-new Astra has built up an impressive list of accolades throughout 2016, including being named a Game-Changer by Autocar and picking up European Car of Year. It has also secured category wins in the Auto Express, WhatCar? and Fleet News Awards.
Older

Articles