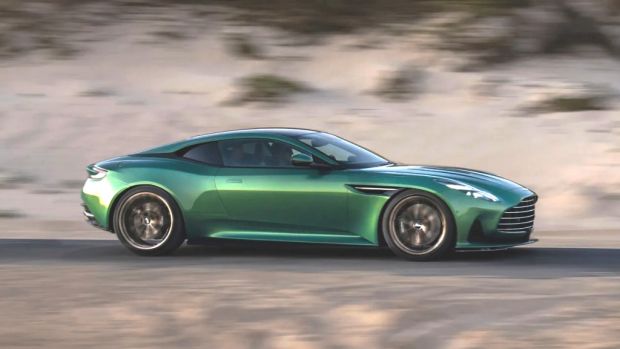 Introducing the Aston Martin DB12: The World's First Super Tourer
25th May 2023
Aston Martin is proud to introduce the new DB12. Delivering a quantum shift in sporting character and dynamic capability, this new generation of the legendary DB bloodline defines its own new category. Combining a scintillating driving experience with exceptional refinement, state-of-the-art technology and indulgent luxury, the DB12 demands a new definition. Grand is not enough; this is the world's first Super Tourer.
The DB12 takes a new direction. One which makes it the most complete and accomplished DB model in Aston Martin's history. Blessed with exceptional performance and handling to satisfy and reward the most demanding drivers, its meticulously honed chassis is perfectly matched to a class-leading 680PS/800NM V8 Twin-Turbo powertrain. The result is an energised Aston Martin that shines with authenticity, capability and passion to deliver a driving experience that's second to none.
Unapologetic and unambiguous, DB12 makes an emphatic statement. One that exudes the confidence of a car endowed with a 0-60mph (97km/h) time of 3.5 seconds, a 202mph (325km/h) top speed and best-in-class potency from its 4.0 Twin-Turbo V8 engine. This exceptional hand-built engine, tuned by Aston Martin engineers to deliver class-leading 680PS/671bhp at 6000rpm and 800Nm/590lb ft between 2750-6000rpm; an increase of 34% compared with the outgoing DB11.
Power is fed through an 8-speed automatic transmission and for the first time on an Aston Martin DB model, Electronic Rear Differential (E-Diff). This differential is linked to the car's Electronic Stability Control (ESC) system. Unlike a conventional Limited Slip Differential, it can go from fully open to 100% locked in a matter of milliseconds, giving the driver maximum response for more precise and consistent handling.
Engineered to maximise performance and intensify emotion, the DB12 is the product of a holistic approach. One that starts with meaningful increases in structural stiffness and ends with Michelin Pilot Sport 5 S tyres made to Aston Martin's precise specification. Supported by an all-new suspension system featuring the latest adaptive dampers, control and connection are further amplified by an exceptionally precise and direct Electronic Power Assisted Steering (EPAS) system and an Electronic Rear Differential (E-Diff) that enhances agility and brings the DB12 alive on the most dynamic of roads.
Supported by an industry leading Electronic Stability Control (ESC) system, which employs six-axis inertia measurement to predict available grip, the DB12 also gives the driver a choice of five pre-set driving modes allowing the freedom to incrementally explore the limits of grip and traction with complete confidence and safety. Put simply, no series production Aston Martin has dedicated itself so completely to setting new dynamic benchmarks.
The announcement of DB12 comes as Aston Martin celebrates two significant milestones in 2023; Its monumental 110th anniversary and 75 years of the illustrious DB model line. When founders Lionel Martin and Robert Bamford officially formed the partnership that became Aston Martin, they ignited more than a century of automotive passion, cutting-edge British innovation, and high-octane racing success. It comes at a time when Aston Martin is enjoying one of the most dynamic periods in its 110-year history thanks to continued podium success in the 2023 Formula 1® season. Competing at the pinnacle of world motorsport remains a key pillar of the marque's brand and product strategy.
DB12's core values of high-performance and ultra-luxury are spearheading Aston Martin's next generation of sports cars. As such it heralds a new era. One which will see all Aston Martin models characterised by prodigious performance and pinpoint dynamics, seamless integration of advanced technologies and the sublime style and exemplary craftsmanship for which the brand has long been renowned.
Roberto Fedeli, Group Chief Technology Officer of Aston Martin said of the new DB12: "DB12 is a statement car. One that asserts Aston Martin's position as a leader in performance, dynamics, engineering and technology. We have pushed every aspect of this car to be best-in-class. The result is more power and performance than its rivals. Combined with exceptional handling and an exciting soundtrack, it is a car with passion and a truly sporting character. Crucially, thanks to its breadth of capability we have achieved this without compromising refinement, comfort and luxury. Together with our use of industry-leading dynamic control and infotainment systems, DB12 is the start of Aston Martin's most exciting new era."
Older

Articles