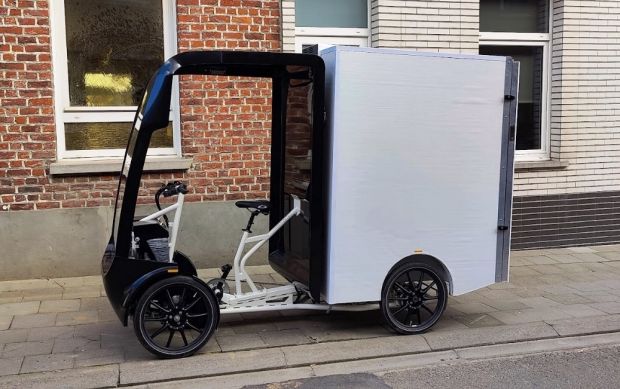 EAV (Electric Assisted Vehicles) are now officially cool
30th May 2022
Electric Assisted Vehicles Limited (EAV), the Oxfordshire-based sustainable zero-emissions vehicles manufacturers, have confirmed a working partnership with leading mobility technology supplier and Fortune Global 500 company, DENSO Corporation. The collaboration has produced a super-efficient low voltage connected actively-cooled eCargo bike.
The current partnership project involves developing and engineering to production a new EAV eCargo model which has already been named the EAV2Cool. The 2Cool will feature a 1.4m³ rear compartment, fully connected and actively chilled to an operating temperature of between 2°C - 5°C which can be sustained for 10 hours in 30°C ambient heat. DENSO's innovation teams have brought all their knowledge and experience of being the producer of nearly a third of all automotive air conditioning units worldwide to the production of a low voltage cloud-connected chiller system which is being developed for the EAV project.
"As more urban locations move towards zero emissions, and even the banning of city and town centre traffic altogether, micromobility logistics solutions like the eCargo bike have become the ideal solution for the last mile." commented Nesh Cvetkovic, Director Connected Services at DENSO International Europe. "A significant proportion of that last mile traffic requires the option of active cooling that is connected and dynamically traceable, especially with food and pharmaceuticals. To provide this capability, DENSO's innovation team entered into a collaborative engineering programme with EAV, who are the leaders in micromobility solutions, to produce the EAV2Cool."
The engineering challenges of running a low voltage cooling system which can maintain low temperatures in high ambient heat conditions and remain remotely monitored by operators are not insignificant. EAV will fit additional batteries to the EAV eCargo chassis to provide sustained 40v power to support the 10-hour minimum operation window required by DENSO.
"The whole premise of EAV is that we rely on being environmental through lightweight. Our mantra is to achieve more with less, so we've been working closely with the specialist engineering teams at DENSO to make sure we maintained that weight advantage." said Adam Barmby, Founder and CEO of EAV. "We know there's significant interest in the market for a fully connected actively cooled eCargo vehicle rather than just packing cooled goods into highly insulated packaging and trying to minimise temperature gain. We're now enthusiastically looking for partners who operate cold chain deliveries or who have a requirement for chilled products distribution, to work with on pilot programmes throughout the summer. We'll have a much better understanding of the operational requirements of the EAV2Cool by the autumn and we'll be launching the production version with DENSO at the IAA in Hannover during September."
The effectiveness of the connected active cooling system will also allow the EAV2Cool to be able to be used for street vending in any location keeping food and drinks fresh. This should also open up new and interesting opportunities for the ground-breaking EAV2Cool- DENSO project.
Older

Articles