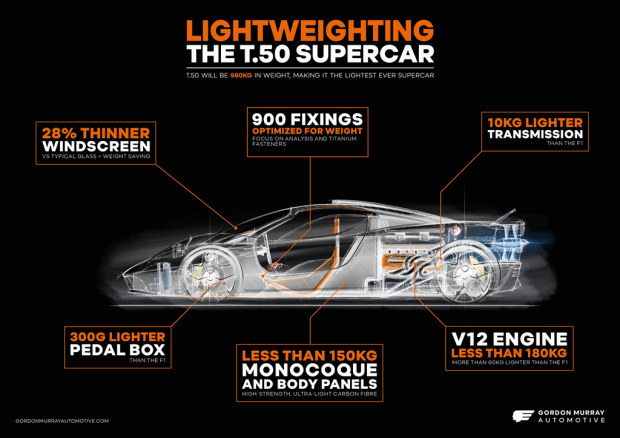 T.50 supercar - just add Gordon Murray lightness
28th May 2020
Last year, Gordon Murray Automotive (GMA) announced details of its plan to create the world's lightest, most driver-focused supercar. Setting the benchmark so high required new levels of innovation, and a shift away from the current supercar trend of ever-greater power, speed and – inevitably – weight.
Revealing a total vehicle weight of just 980kg, the GMA team undercut the typical supercar (approx. 1,436kg*) by almost a third. To achieve this engineering feat, the team chose not to present a stripped-back track vehicle, but to deliver owners a car that is comfortable, practical and drivable every day.
Commenting on his 'every component counts' approach to lightweighting, Professor Murray said: "Designing a lightweight sports car does not come from specifying exotic materials alone, it comes from a state of mind, from absolute focus and control, and from a deep understanding of lightweight, optimised design."
In the T.50, every 100hp only has to propel 150kg of car, whereas for the typical supercar (1,436kg with 684hp) the weight it has to propel is 40% higher, at 210kg. It is this weight-to-power calculation that drives the development of the T.50, with every component designed and engineered to achieve the lowest starting weight. This focus and control ensures no retrospective weight-saving measures need to be implemented late in the car's development.
Weighing just 980kg and powered by a 650hp V12 engine, the T.50 sets a challenging benchmark for rival supercars. To match the T.50's 663hp/ton, the typical 1,436kg supercar would need an additional 300hp. Of course, the 950hp required to match the T.50 on paper would add cost, complexity, and require larger, heavier components (tyres, drivelines, transmission, brakes, etc.) to handle the extra power. Through exacting standards, innovative engineering and the expertise of Cosworth Powertrain engineers, the weight of the GMA 4-litre unit is less than 180kg. This makes it the lightest road-going V12 ever made.
With a compact footprint of just 4,380mm (l) x 1,850mm (w), the T.50 is smaller than a Porsche 911 but offers comfortable space for three passengers and luggage. Its fully carbon fibre monocoque and body panels weigh less than 150kg in total. Inside, the three racing-inspired seats are also constructed using carbon fibre. The centrally-positioned driver's seat weighs less than 7kg, while the passenger seats that flank it to the rear each achieve a weight that is under 3kg.
Gordon Murray Automotive will manufacture exclusive low volume sports cars – the T.50 supercar will be the brand's halo model. The company forms part of a new corporate organisation for the engineering group, and is positioned as a sister company to Gordon Murray Design.
Older

Articles