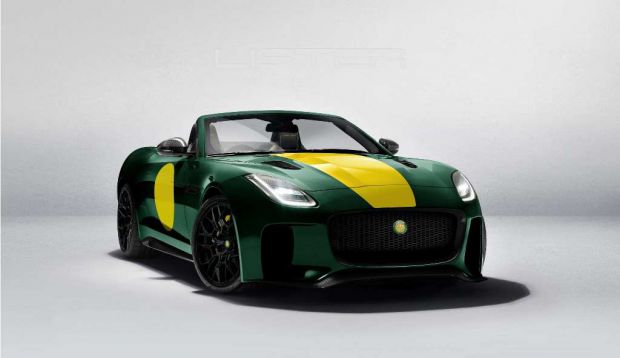 Lister takes the top off the superfast LFT-666
20th March 2019
Following high demand for an open-top LFT-666, iconic British car manufacturer - The Lister Motor Company – is launching its most powerful open-top supercar ever - the LFT-C - ready for summer 2019.
The LFT-C has a top speed in excess of 205 mph, and a 0-62 mph time of just over three seconds, thanks to its Lister-tuned and supercharged 666 bhp V8 engine. In addition, the LFT-C receives the same bespoke wheels, exhaust, suspension and braking system as featured on the LFT-666, but also benefits from a bespoke, handstitched interior.
Each LFT-C will feature exclusive carbonfibre body panels, designed and manufactured by Lister in the UK. Unique Lister additions include: front bumper, front splitter, rear diffuser, rear lip spoiler, rear extended wheel arches, a new grille design, and new lightweight alloy wheels fitted with Michelin tyres.
Lister has also uprated the suspension and braking system and added a bespoke exhaust system to enhance the sound of the 666 bhp supercharged V8 engine to work perfectly with an open cockpit vehicle.
Every LFT-C will be built to a bespoke customer specification, from wheel design to paint finish. The interior adds a real level of unique luxury being entirely retrimmed, by hand with the finest UK Nappa hides from Bridge of Weir leather.
In keeping with the Lister tradition of producing extremely unique and rare cars, the LFT-C will be a rare sight, as production is limited to just 10 examples worldwide. Each LFT-C will feature a solid silver numbered plaque, affixed to the engine cover, to show it is one of just 10 examples to be produced. Pricing starts from £139,000 with an almost unlimited options list available.
Both the LFT-C and LFP models will soon be on display at the brand new, purpose-built, £6m, Lister headquarters and showroom in Blackburn, Lancashire, which opened in January. They will be displayed in the new showroom alongside classic Lister models, and other select classic cars.
The Lister classic continuation models, comprising the Knobbly and Costin, will continue to be built in Cambridgeshire.
The LFT-666 coupe, which was limited to a total of 99 cars, received orders from around the world. Delivery of customer cars commenced in January 2019, with cars heading as far afield as Canada and Australia. The entire 2019 allocation of cars is now sold; however, buyers can still place an order for delivery in early 2020.
In addition to the production LFT-666 and LFT-C models, Lister is also offering wheel and body enhancements for all Jaguar F-Type models worldwide, with kits starting from just £9,750 for the Lister badge, bumper and wheel upgrade. Cars with only the Lister body enhancements will be known as simply the Lister LFT, with no BHP denotation added.

Warrantywise, the UK's 2nd largest privately-owned car warranty firm, will be providing extended warranties for all Lister vehicles, meaning that a 7-year warranty is now available across the entire Lister range.
Lawrence Whittaker, CEO of The Lister Motor Company said: "Launching the new LFT-C is a personal triumph, as I have always loved convertible cars, even since my 2nd car, an MG Midget. While we are famous for cars like the Knobbly and the Storm, the LFT series heralds a new era for Lister and continues our historical enhancement of Jaguar drive trains, which dates back to 1957. In 2019, we will see the launch of at least two new cars and have also just opened our new £5m headquarters in Lancashire that will be known as the home of the new Lister. There is lots more to come, and we look forward to sharing more news in the near future."
Older

Articles