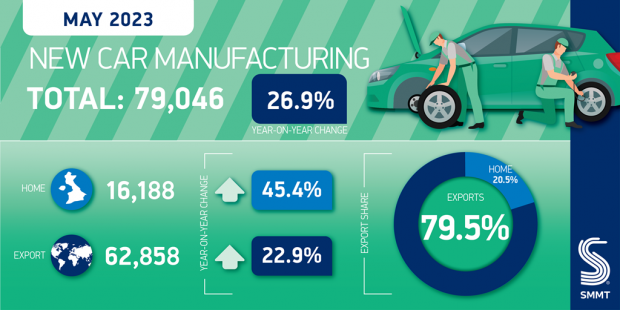 British car production continues growth in best May since 2019
30th June 2023
UK car production rose for the fourth consecutive month in May, up 26.9% year on year, according to the latest figures published today by the Society of Motor Manufacturers and Traders (SMMT). 79,046 units left production lines, 16,762 more than in the same month last year, as manufacturers defied the challenging economic backdrop to fulfil customer demand for the latest British-built models, at home and overseas, although the total was still down -31.9% on May 2019.1
There was double-digit growth for domestic and overseas orders, with volumes for the UK surging by 45.4% to 16,188 units and exports rising 22.9% to 62,858 units. Exports accounted for the majority of the production output, at 79.5%, with the EU remaining the biggest global market, taking 35,215 units, up 19.0% and representing 56.0% of all overseas shipments in the month. This trend reinforces the need for continued tariff-free trade between the UK and EU, especially in electrified vehicles which will be hit by tougher rules of origin, due to come into force from 1 January 2024, unless the EU and UK can both agree to their postponement.
These crucial models make up an increasing proportion of total UK car production, with combined hybrid electric, plug-in hybrid and battery electric vehicle volumes up 95.4% in May to 27,636 units and representing 35.0% of all cars made in the month. Tariffs would make these vehicles more expensive just at the moment when industry needs to ramp up sales - with a ZEV mandate expected in 2024 – potentially holding back the shift to zero emission transport.
Combined, UK car exports to the next largest markets, the US, China, Japan and Australia, represented less than a third (28.3%) of exports in May, and, at a total of 17,798 units, about half of all those sent into the EU.
Mike Hawes, SMMT Chief Executive, said, "Another month of growth for UK car production is good news and a sign that, despite challenging economic conditions, the industry's foundations are strong. But with weak GDP growth, high inflation and rising interest rates, it's crucial that UK car factories stay globally competitive. All political parties must recognise the strategic importance of this sector and back our call for an industrial strategy that supports local production, assures export market access and attracts further investment to safeguard our future."
Older

Articles