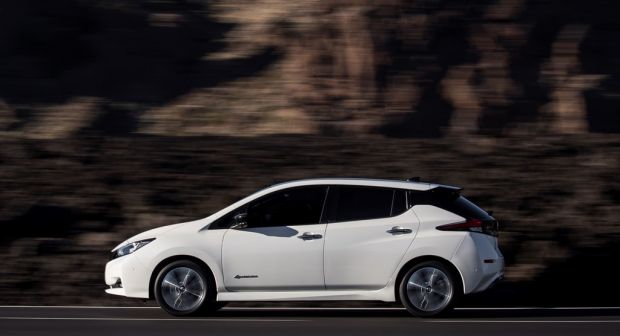 Nissan LEAF named 'Best Used Electric Family Car'
28th July 2021
The second-generation Nissan LEAF has been named 'Best Used Electric Family Car' at the What Car? Electric Car Awards 2021. The annual awards recognises the best fully electric and hybrid models available today.
What Car?'s judging panel praised Nissan's ground-breaking EV for its 'polished handling' and 'comfortable ride' as well as occupant and boot space. They said; "A truly viable alternative to the traditional family car: the LEAF is practical and good to drive, plus its range makes it useful for more than just commuting. Overall, the 40kWh LEAF impresses next to its used rivals."
This prestigious accolade is the latest in a number of official recognitions for the LEAF in the growing used electric car market. The LEAF (2018>) was also named 'Best Used Electric Car' in What Car's Used Car Awards 2021.
Andrew Humberstone, managing director, Nissan Motor (GB) Ltd., commented; "We're delighted that LEAF has once again been recognised as the most accomplished and affordable model in the growing used electric car market. As the original mass-market EV, the Nissan LEAF continues to be an accessible entry point to all-electric driving for thousands of motorists, whether that's in a used example or the latest generation LEAF e+."
Since its global launch in 2010, the Nissan LEAF has seen enhancements to both battery capacity and performance from 24kWh to 30kWh in 2016. A second generation model introduced in 2018 now offers both 40kWh and 62kWh versions, with an official range of up to 239 miles (WLTP) on range-topping e+ models.
Nissan recently launched the MY21 LEAF which comes equipped with a new Acoustic Vehicle Alerting System (AVAS). Named 'Canto', the AVAS has been specifically designed to transmit artificially simulated driving sounds, alerting road users of the presence of a 100% electric vehicle.
Following the unveil of EV36Zero, a £1 billion flagship Electric Vehicle (EV) Hub and world-first EV manufacturing ecosystem, Nissan continues to accelerate its efforts in Europe to achieve carbon neutrality with a new all-electric crossover planned for production at its Sunderland plant.
To search for an approved used Nissan LEAF, visit Nissan Intelligent Choice at https://usedcars.nissan.co.uk/en/vehicles
To learn more about Nissan LEAF, visit https://www.nissan.co.uk/vehicles/new-vehicles/leaf.html
Older

Articles