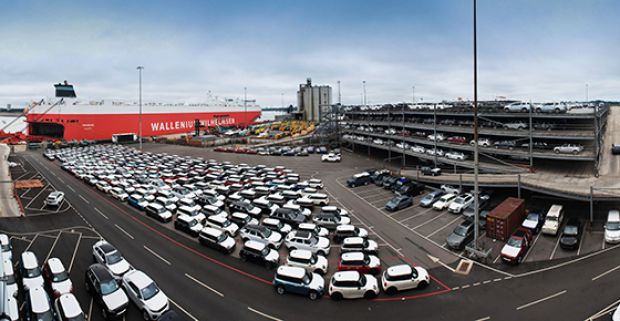 Exports drive UK car production in first half of 2018
31st July 2018
UK car production fell by -5.5% in June, with 128,799 cars rolling off production lines, according to figures released today by the Society of Motor Manufacturers and Traders (SMMT). While exports grew 6.0% in the month, this couldn't offset a -47.2% decline in production for the UK. Model cycles, operational changes and preparation for a new range of next generation vehicle technology ahead of new WLTP emissions standards, all played a part in the month's anomaly.
Production for export has continued to drive volumes throughout 2018, with overseas orders broadly stable, down by a marginal -0.8% in the first six months. In the year to date, 675,187 cars have been built for global markets, helping to mitigate disappointing domestic demand, with overall output down by just -3.3% to 834,402 units.
In the six months to June, global demand for British-built cars grew in a number of key markets, notably the US – the UK's second largest exports destination after the EU – where exports rose by 1.5% thanks to a raft of new, desirable models. Demand also grew substantially in Japan (+77.3%) and South Korea (+67.8%), while China maintained its position as the UK's third biggest customer, taking 6.4% of exports.
However, despite a -3.6% decline in demand, the EU remained the UK's biggest trading partner, accounting for 360,270 units – more than half of all cars produced for export (53.4%). Individually, EU countries also made up half of UK Automotive's top 10 export destinations, with Germany, Italy and France the UK's second, third and fourth biggest markets after the US and ahead of China.
Although UK Automotive now exports more than eight out of every 10 cars it builds to more than 160 countries worldwide, it is also a major importer. More than 87% of the cars registered by British buyers in the first six months of the year came from overseas plants, and more than two thirds (69.1%) from the EU, highlighting the importance of tariff- and barrier-free trade.
Mike Hawes, SMMT Chief Executive, said,
"June's results demonstrate the risks of judging automotive performance one month in isolation, with numerous and varied factors creating a perfect storm for home market output. Looking at the longer-term picture, the sector is performing as expected in the context of market conditions at home and abroad.

First half figures are a reminder of the exports-led nature of UK Automotive, the integrated EU supply chain and our mutual dependency on free and frictionless trade. The UK government's latest Brexit proposals are a step in the right direction to safeguard future growth, jobs and consumer choice – not just in Britain but right across Europe.

We now look to negotiators on both sides to recognise the needs of the whole European automotive industry which, combined, employs more than 12 million people. Any disruption risks undermining one of our most valuable shared economic assets."
Older

Articles