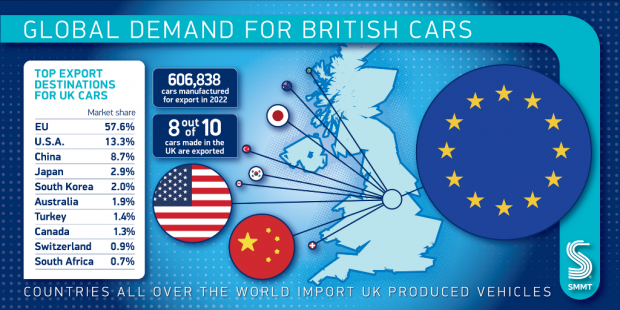 UK car production down but electric vehicle output surges to new record
26th January 2023
UK car production declined -9.8% in 2022 to 775,014 units, according to the latest figures issued today by the Society of Motor Manufacturers and Traders (SMMT). December rounded off a volatile year, with output down -17.9% in the month after growth in October and November, with most of the year's volume loss occurring in the first half.
The annual total was 84,561 units down on 2021 and -40.5% off the 1,303,135 cars made in 2019 pre-pandemic, equivalent to a loss of more than half a million cars.1 The main reasons for the depressed output were the crippling global shortage of semiconductors, which limited the ability to build cars in line with demand; significant structural changes, reflecting a loss of production at two volume manufacturing sites; and the impact of supply chain pauses in China due to Covid lockdowns.
Despite these challenges, UK factories turned out a record 234,066 battery electric (BEV), plug-in hybrid (PHEV) and hybrid (HEV) electric vehicles, with combined volumes up 4.5% year-on-year to represent almost a third (30.2%) of all car production. Total BEV production rose 4.8%, with hybrid volumes up 4.3%, and boosting output of these vehicles will be critical in the attainment of net zero, for both the UK and major overseas markets.
The figures come as fresh SMMT analysis confirms the increasingly important role of electrified vehicle production to the UK economy, especially the value of exports. Since 2017, the value of BEV, PHEV and HEV exports has risen seven-fold, from £1.3 billion to more than £10 billion. As a result, electrified vehicles represent 44.7% of the value of all UK car exports, up from a mere 4.1%. BEVs, in particular, are critical to the future prosperity of the UK, with their export value up more than 1,500%, from £81.7 million to £1.3 billion.2
The UK's strength in specialist, luxury and performance car makers was also further underlined, with output climbing 6.6% to 32,575 units, worth an estimated total of £3.7 billion at factory gate prices, driven by a number of new launches and models in high demand from buyers around the world. These manufacturers play an important role in the development of advanced automotive technologies such as light-weighting and electrification which, in turn, can help advance wider industry.
Total annual output for the UK market grew 9.4%, but this was not enough to offset a -14.0% drop in exports. Nearly eight in 10 cars (606,838 units) were built for overseas markets, compared with 168,176 for British buyers, emphasising the importance of free and fair global trade.
The EU remained by far the sector's largest market, even as shipments declined -10.0%, with 57.6% of exports (349,424 units) heading into the bloc. While exports to the US and China also fell, down -31.6% and -8.3% respectively, the number of cars sent to Japan (+5.7%), South Korea (+32.8%), Australia (+4.7%), Switzerland (+2.7%) and South Africa (+23.0%) all increased, although together these represented just 8.4% of exports. Exports to Russia, a top 10 export market in 2021, meanwhile, fell -78.3%, with shipments made before the outbreak of war in Ukraine and the cessation of business.
Older

Articles