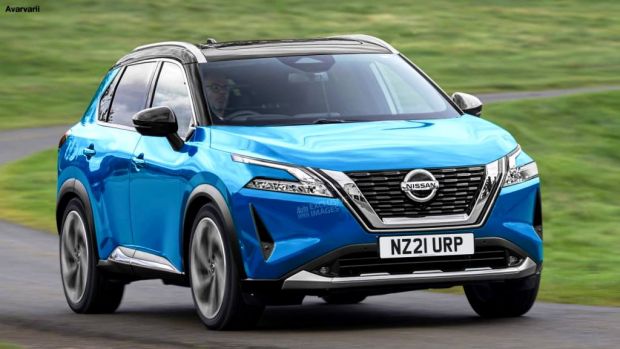 Next generation Nissan Qashqai boasts innovative e‑POWER drive system
18th January 2021
Supporting Nissan's goal of achieving 50% electrified sales in Europe by FY23, the new Nissan Qashqai will not only be available with a 1.3 DiG-T petrol equipped with mild hybrid technology, but it also represents the European debut of e-POWER, Nissan's innovative and award-winning powertrain that draws technologies from the company's pioneering Nissan LEAF electric vehicle.
The e-POWER system for New Qashqai has been specially developed for the model to meet the rigorous demands of European drivers. Qashqai with e-POWER not only realizes a high level of fuel efficiency and low CO2 emissions, but also responsive and powerful acceleration.
With both 2WD and 4WD variants, 6-speed manual or new Xtronic CVT transmissions, and pure-electric motor driving courtesy of e-POWER, the all-new Qashqai's powertrain options cater for every customer requirement with driving pleasure at the heart of all the powertrain configurations.
"Customers rightly demand more efficient vehicles, but they also want an enjoyable driving experience. Electric vehicles have the highest satisfaction for driving sensations and customers love the instant torque and continuous acceleration they deliver. By adopting 100% electric motor drive with e-POWER on the new electrified Qashqai, customers can enjoy the benefits of EV driving, without the consideration of range or access to charging infrastructure," said Marco Fioravanti, Vice President, Product Planning, Nissan Automotive Europe.
The new Qashqai brings the first deployment of Nissan's innovative e‑POWER drive system to Europe. Exclusive to Nissan and a key component in the company's Intelligent Mobility strategy, the e-POWER system is a unique approach to electrification by making every day driving exciting.
The new Qashqai's e-POWER system is comprised of a high-output battery and powertrain integrated with a category-leading variable compression ratio 157PS petrol engine, power generator, inverter and 140kW electric motor of similar size and power output as found in Nissan's electric vehicles. It's a unique solution that combines the enjoyable, seamless linear acceleration which is characteristic of an EV, but without the need for charging.
To meet the typical demands of European consumers and their daily drive, the e-POWER installation has been significantly upgraded for the new Qashqai. Where the application in the Note - Japan's best-selling car in recent years – is a 1.2 petrol engine charging the battery unit, and a final power output of 108PS. For Europe it has been upgraded to a 1.5-litre petrol engine, with a final power output of 140kW (190PS).
The unique element of the e-Power is that the petrol engine is used solely to generate electricity, whilst the wheels are completely driven by the electric motor. This means the engine can always run within its optimal range, leading to superior fuel efficiency and lower CO2 emissions compared with a traditional internal combustion engine.
Image courtesy of Auto Express
Older

Articles