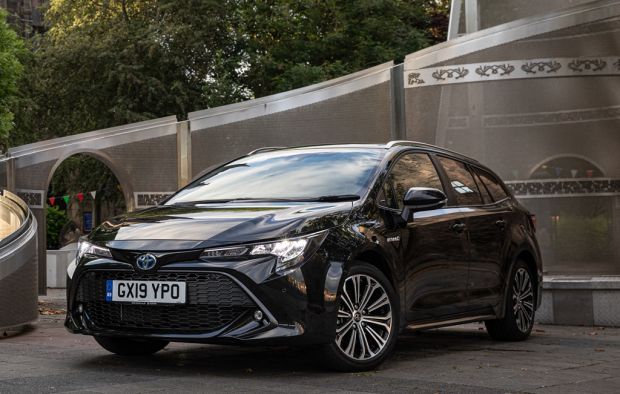 Toyota Corolla Touring Sports collects Car Buyer's Best Company Car award
20th December 2019
The all-hybrid Toyota Corolla Touring Sports has been named Best Company Car in the 2020 Carbuyer awards.
The consumer motoring website rated the wagon version of Corolla – launched in spring this year – as the top pick for business thanks to its all-round package of style, usefulness, efficiency and day-to-day affordability.
James Batchelor, Carbuyer Editor-at-Large, said: "2019 saw the return of the Corolla badge after a long hiatus. The combination of the stylish, practical Touring Sports body style and the efficient hybrid set-up is a winner for business buyers. Low ownership costs made it an easy pick for our Best Company Car 2020 award."
Corolla Touring Sports is part of the 12th generation of the world's best-selling car name-plate and has enjoyed a positive response from company car/fleet customers, thanks not least to offering a choice of two different hybrid-electric powertrains. As businesses look to move away from diesel and improve their environmental performance, Toyota hybrids – and Corolla in particular – have become an increasingly attractive proposition with their proven reliability, long-lasting quality and low, real-world running costs.
The 1.8-litre Touring Sports has an output of 120bhp/90kW and returns official CO2 emissions from just 76g/km (NEDC correlated; 103g/km WLTP) with fuel economy from 55.42 to 62.77mpg (WLTP, Touring Sports). The 2.0-litre option raises the power to 181bhp/132kW, enabling acceleration from rest to 62mph in 8.1 seconds. In spite of the extra horsepower, efficiency remains strong with 89/119g/km emissions (NEDC correlated/WLTP) and 50.45 to 54.23mpg (WLTP).
Benefit-in-kind company car tax rates are a key consideration – for the current financial year at 22 per cent for all versions of Corolla Touring Sports.
The car is underpinned by Toyota's global GA-C platform which provides secure and rewarding handling with a balanced chassis, highly rigid body and low centre of gravity. The load space is designed to be flexible and easy to use, with 598 litres available, loaded to the tonneau cover and with all seats in place (2.0-litre model).
All Corolla Touring Sports and Hatchback models for Europe are built by Toyota Manufacturing UK at its Burnaston plant in Derbyshire; hybrid engines are from the company's factory in Deeside, North Wales.
Older

Articles