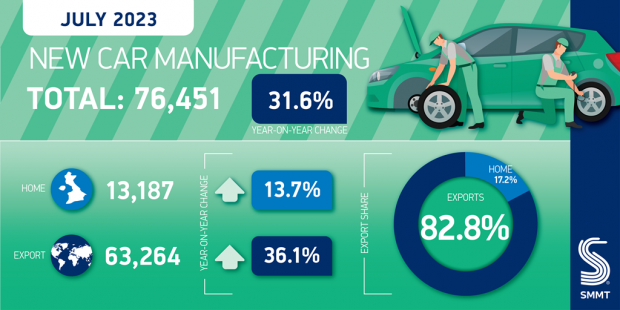 Six months of growth for UK car production
31st August 2023
UK car production surged in July, rising 31.6% to mark the sixth consecutive month of growth, according to the latest figures published today by the Society of Motor Manufacturers and Traders (SMMT). 76,451 units rolled off factory lines as UK car makers continued their recovery from recent difficulties, notably global chip shortages, to deliver the latest models to buyers at home and overseas. Despite this growth, however, output remained -29.4% lower than pre-pandemic July 2019.1
Manufacturing output for the UK rose 13.7% to 13,187 units in the month while exports increased more than a third (36.1%) to 63,264 units, representing by far the bulk of all production in July. More than eight-in-ten (82.8%) cars made were shipped overseas, with the top destination markets being the EU, US, China, Japan and Australia. Combined they accounted for almost 85% of all UK car exports last month.
Production of the latest, high-tech hybrid electric (HEV), plug-in hybrid (PHEV) and battery electric vehicles (BEVs) continued apace, with combined volumes rising 73.9% to 30,180 units and representing almost two in every five (39.5%) cars made in July. Since January, UK car makers have now turned out more than 200,000 of these vehicles, almost double the amount produced in the same period last year, and a total of 526,619 cars overall, an increase of 14.2% year-on-year.2
Mike Hawes, SMMT Chief Executive, said, "Six months of growth shows that British car production is recovering and, with electrified models increasingly driving volumes, the future is more positive. Recent investment announcements have undoubtedly bolstered the sector but global competition remains tough. If we are to attract further investment and produce the next generation of zero emission models and technologies, we need a coherent strategy that builds on our strengths and supports all aspects of advanced automotive manufacturing."
The figures come after publication of the latest independent production outlook, which suggests total UK car production will reach around 860,000 units this year, an uplift of 10.9% on 2022, as the sector recovers from three tough Covid years, with the possibility to get production back to the million mark in 2028.
Older

Articles