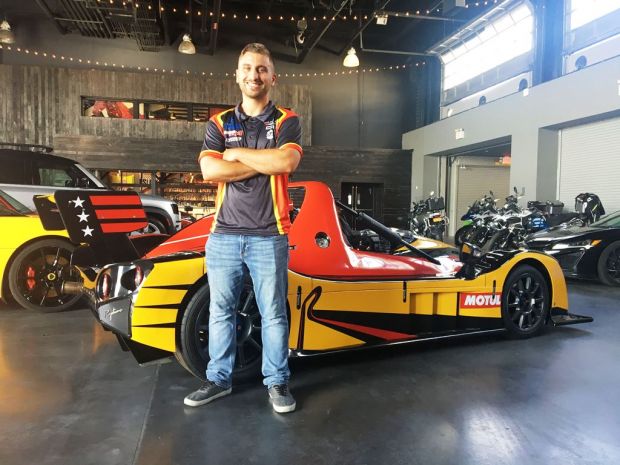 Radical Sportscars opens in New York
29th August 2020
Radical Sportscars is expanding its extensive North American dealer network with Radical New York servicing the Northeast, including the tri-state area, Massachusetts and New Hampshire.
Radical New York will be spearheaded by open-wheel powerhouse Group-A Racing, run by Jonathan and Joseph Scarallo. Established in 1996 to compete in the USF2000 series, more recently Group-A has been a stalwart to the F4 US Championship, being the only team to field cars in every round since the series' inception. The team has also partnered with the Lucas Oil School of Racing to create a development pathway for drivers from across the globe. Image shows Joseph Scarello.
Along with its operational base in Lindenhurst, Long Island, Radical New York will also have a presence in the heart of Manhattan at the exclusive Classic Car Club on Pier 76, which already features a Radical RXC 'art car' hanging from its walls.
Radical New York will shortly commence a programme of trial days throughout the Northeast to showcase Radical's range, including their new SR3 XX demonstrators – Radical's latest and smartest iteration of its best-selling model.
The region is well served by iconic circuits and private member clubs including Watkins Glen, Monticello Motor Club, Lime Rock Park, New Jersey Motorsports Park, Club Motorsport, Pineview Run, and Palmer Raceway. Radical New York has established links with these circuits and local service partners to help support the many Radical owners already participating in trackdays and race events at these venues.
The formation of Radical New York comes after Group-A Racing joined the national Blue Marble Radical Cup series earlier this year, in conjunction with Boston-based service and support partner Tummenas Motorsports. Fielding Steve Jenks, Radical New York has already achieved a hattrick of podium finishes in the highly competitive PRO 1500 class.
Based onsite at New Jersey Motorsports Park, IMSA LMP3 champions Forty7 Motorsports are another service partner of Radical New York, offering drivers in the New Jersey area a range of technical, parts and training solutions.
Beyond immediate sales and support of new and existing drivers in the region, Radical New York has ambitions to establish a single-marque Radical series in the Northeast, alongside expanding Radical's presence and success in SCCA and NASA events.
"We are very excited to be joining the Radical family," commented Radical New York Dealer Principal Jonathan Scarallo. "It's been a 12-month process to properly engineer the right plan to service the Northeast corner of the United States– providing local service centers supported by a large regional parts warehouse, and partnering with the country clubs to offer demo opportunities for people to come and try these awesome race cars."
"The United States is Radical's biggest market with many drivers based in the North-eastern states, so I'm delighted that we've found a new partner with the scale and experience to support them," added Dan Redpath, Radical Global Sales Director.
"Group-A Racing have an enviable reputation in US single-seater competition, and combined with the Scarallo family's 40-year reputation in automotive product sales and support, Radical New York are well positioned to bring our exciting range of sportscars – including the newly-launched SR3 XX – to motorsport enthusiasts in the region."
Radical New York is the latest in a raft of new Radical dealer appointments throughout the world over the last 12 months. The network has been bolstered by new representatives in Arizona, as well as the Philippines, Australia and New Zealand.
Older

Articles