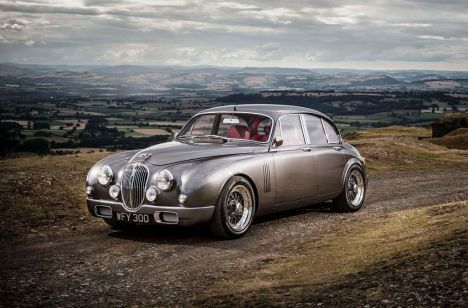 Mark 2 by Callum unveiled
28th August 2014
A unique Jaguar Mark 2 redesigned by Ian Callum, Director of Design at Jaguar Cars, and reengineered by leading restorers Classic Motor Cars Limited (CMC) has been unveiled at the opening of the company's new headquarters in Bridgnorth, Shropshire.
This exciting 18 month joint project between Ian Callum and CMC has endeavoured to retain the integrity of the original Mark 2, whilst making it even more exciting in shape and performance.
Ian Callum said: "This is a very personal statement. A long held notion that, although the Mark 2 has always been a beautiful car, it could be even more exciting in shape and performance. Whilst maintaining the purity of the car's form, I wanted to add a number of modern twists to the design. Simplification and clarity was my objective."
The car has been redesigned by Ian for his own personal use and, working with CMC's engineers, it now boasts a huge number of aesthetic and technical modifications that make this a practical, reliable, enjoyable and exciting everyday vehicle.
Featuring a modified and uprated 4.3 litre XK engine, 5-speed manual gearbox, unique independent rear suspension and upgraded front brakes, the Mark 2 by Callum provides an intuitive driving experience.
Commenting on the specifications, Ian said: "The stance of the Mark 2 is already excellent, but I wished to make it even better. The car's form is now 30mm lower and sits on 17" split rim spoke wheels. The bumpers are now part of the overall form. It is a fine balance of extracting and adding.
"I have always loved traditional louvres as seen on many older race cars. Four louvres appear on the side of the car to add to that sense of power and 'something different'. Of course they had to work, so they have been designed in a low-pressure area for a better internal airflow from the modified engine."
The suspension has been designed and reengineered by CMC. The front incorporates a bespoke power assisted rack, uprated coil springs, roll bar and wishbone bushes, adjustable dampers and solid subframe mountings, repositioned to improve anti-dive characteristics. The unique independent rear suspension now includes uprated coil springs, blade control wishbones, outboard disc brakes, an anti-roll bar and adjustable dampers.
The car has been fitted with Clarion's NZ502E single DIN multimedia station, a high technology in car entertainment system with a 16cm flip-out touch screen, amongst other features, and component loudspeakers in specially-designed housings. The cabling has been provided by VDC Trading, as used in the world's top recording and mastering studios, such as Abbey Road.
Peter Neumark, Chairman of CMC, said: "The wide-ranging list of modifications in the Mark 2 shows just how much design and engineering development has gone into this venture from the original car. To be chosen by Ian Callum to work with him on his project is a testament to the skills and passion that exist within our business, and is something that CMC are immensely proud of."
Older

Articles