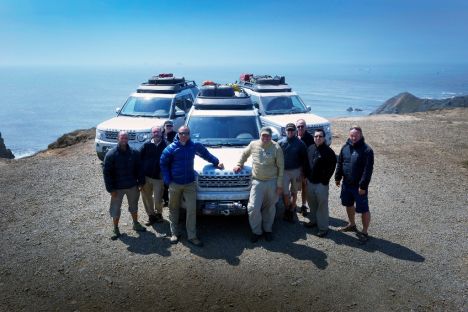 Land Rover Expedition America Team successfully crosses the USA off-road
27th August 2013
On Wednesday August 21, the nine- member Land Rover Expedition America team successfully reached the Pacific Ocean at Port Orford, Oregon after covering over 4,000-miles and 27 days on this dirt crossing of the USA. The expedition used Land Rover LR4 vehicles for this landmark drive.
Land Rover believes this is the most complete trans-continental dirt road crossing possible of America, from North Carolina to Oregon. This incredible adventure trail was based on the Trans-America Trail, the brainchild of Mississippi adventure motorcyclist Sam Correro. Over 85% of the drive was on the unpaved trails, forest roads, farm roads, and other existing dirt tracks that make up the Trans-America Trail.
Expedition leader Tom Collins (TC) used Correro's maps and the Land Rover navigation system to guide the expedition through thousands of turns. Tom Collins called the architect of the trail from the finish point on the Oregon coast, and Correro was overjoyed to receive news of the safe and successful arrival of the expedition in Oregon. No other production SUV or passenger car is known to have ever made the complete journey.
"It's just incredible that Sam's 30 years of research and thousands of miles traveled has allowed us to do this journey," said Collins. "I hope our journey highlights what an amazing job he has done and brings the Trans-America Trail to a new audience."
Previously, the expedition narrowly escaped flash floods in New Mexico and Utah. In Oregon, the greatest challenge came in the last 48 hours of the expedition. Forest fires in Oregon forced the closure of many forest trails and Collins had to map out alternate dirt trails through Oregon, which resulted in a half day detour.
"We give our thanks to the firefighters in Oregon who provided us with detailed advice on how to drive around the fire zone safely. Without their assistance we would have not been able to reach our goal," said Collins. "The sight of the ocean is something the team on the trip has been dreaming of. After weeks of dust, plains, mountains and desert, the Pacific is an awesome sight."
"The LR4 vehicles have been fantastic. They are stock, with only dealer accessory winches and roof racks. We did not have any mechanical issues and the only repairs required while crossing the country were a few tire punctures."
Land Rover launched this expedition to explore the adventures that are at hand within the United States. The Trans-America Trail is a challenge that anyone can pursue, and Land Rover is proud to have been the first production car to traverse the entire trail.
Older

Articles