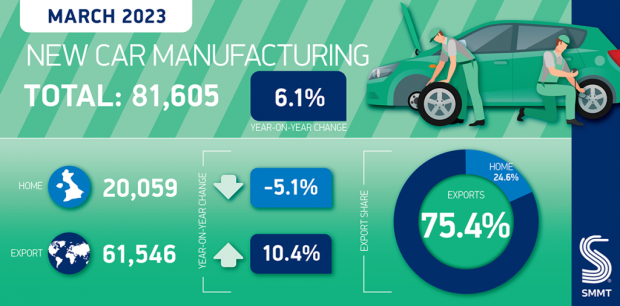 UK car production up 6.0% in first quarter of 2023
28th April 2023
UK car production rose 6.0% in the first three months of 2023, to 219,887 units, according to the latest figures published today by the Society of Motor Manufacturers and Traders (SMMT). As the global shortage of semiconductors and other components begins to ease, factories produced 12,540 units more than Q1 last year, driven by exports which increased 6.6% and represented almost eight in 10 cars made.
March rounded off the period with volumes up 6.1% to 81,605 as, again, exports drove growth, up 10.4% to 61,546 units, offsetting a -5.1% decline in car production for the UK as 20,059 cars were made for the domestic market. At 63.6%, the EU took the largest share of exported cars, (39,172 units), as shipments rose 4.9%, while those to the next biggest markets, the US and China declined -4.1% and -8.3% respectively.
Exports to Turkey, Japan, Australia and South Korea, meanwhile, all rose, though combined they represented just 11.9% of all cars heading abroad in March. Canada, Mexico and Israel rounded off the top 10 markets for UK car exports last month, with only those to Canada down, by 111 units.
British car makers continued to manufacture the latest hybrid, plug-in hybrid and battery electric vehicles, with combined volumes of these models surging 75.0% in March to 32,546 units. Four in 10 cars built in the month featured ultra-low or zero emission powertrain technology. This trend is set to continue as new products come on stream, with more than 20 models of electric cars, vans, buses, trucks and taxis expected to be in production in the UK by 2025.
Mike Hawes, SMMT Chief Executive, said, "A second consecutive month of growth for UK car production gives cause for optimism, though volumes are still well below pre-pandemic levels. If British car manufacturing is to get back towards those levels, with all the economic benefits that brings, we need to match the best in global competitiveness. That means driving down the high cost of UK energy, reforming business rates and vigorously promoting Britain globally to secure the investments essential to a zero carbon automotive future."
The news comes ahead of SMMT Regional Forum West Midlands, on Thursday 4 May at the British Motor Museum, bringing together companies from across the region to discuss how the UK sector scales up electrified vehicle and component production. The event will feature speakers from world famous British automotive brands Aston Martin and Jaguar Land Rover, together with DHL Supply Chain, Invest Coventry and Warwickshire and Dennis Eagle, who will discuss their approach to this once-in-a-generation manufacturing transition.
Older

Articles