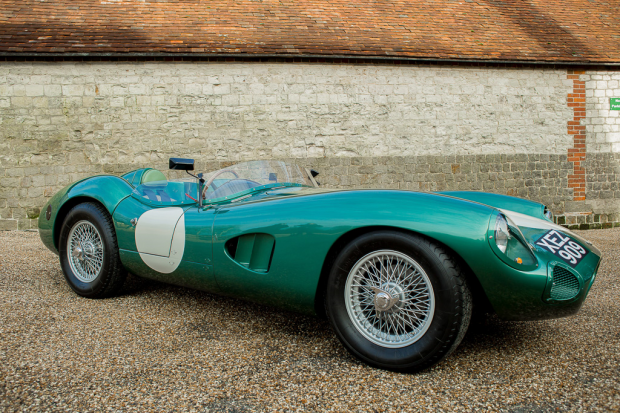 Evanta Aston Martin DBR1 is on its way to Silverstone
24th April 2018
Silverstone Auctions is excited to announce that a very special Evanta Aston Martin DBR1 is coming to its May Sale on 19th May at Silverstone racing circuit.
Built as a near exact replica of the original Aston Martin DBR1, famed for its success during the late 1950's in the hands of legends including Sir Stirling Moss and Carroll Shelby, the stunning recreation was crafted from scratch by the Evanta Motor Company, owned at the time by car designer and 'Wheeler Dealers' presenter, Ant Anstead.
The car comes to auction from the private collection of a high profile celebrity petrolhead with an auction estimate of £85,000 to £100,000.
Nick Whale, managing director, Silverstone Auctions said; "The Aston Martin DBR1 is an icon in British motor racing history, and this is one of the best replicas we've seen. This Evanta is a very special motorcar with unique provenance and offers exclusive and seriously cool summer motoring."
The creation of the car was based on over 150 photographs of an original Aston Martin DBR1 with special attention to recreating the absolute correct Aston Martin Racing Green body and correct colour for the frame.
Inside the cockpit the car is almost indistinguishable from the original cars, even down to the hand painted crackle finish dashboard, which took dozens of attempts until a satisfactory finish was achieved. The seats were also made in the same materials as the original cars, whilst the period correct dials and steering wheel were fitted to retain authenticity.
Under the bonnet the Evanta DBR1 is currently fitted with a high compression 4.2 litre engine with de-Dion rear suspension and coil over front wishbones at the front, with 16" wire wheels fitted with special period reproduction Michelin tyres.
Silverstone Auctions was honoured to sell the car in 2014 to a known enthusiast and collector. The car returned to auction again in February 2016 and sold to its current owner, a high profile celebrity petrolhead, who has made a number of further mechanical enhancements to the car.
"The true value of a genuine DBR1 is believed to be in the region of £20m, making this Evanta DBR1 the closest many collectors can get to owning the legendary racing car. It's an opportunity not to be missed!" concludes Nick.
To find out more about the Evanta Aston Martin DBR1 and the Silverstone Auctions May Sale visit: https://www.silverstoneauctions.com/evanta-dbr1-sports.
Older

Articles