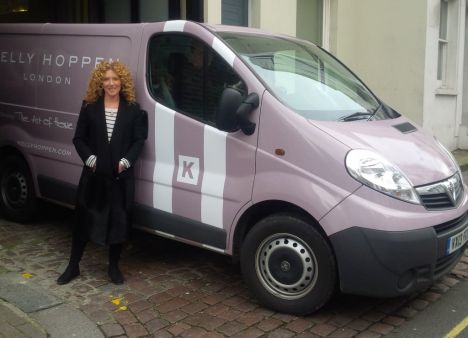 TV's Design Dragon gets a new Vivaro wagon
28th April 2014
Award winning Interior designer and Dragons' Den star, Kelly Hoppen MBE has taken delivery of a new British-built Vauxhall Vivaro van.
HAaving already put her stamp on the homes, yachts and jets of private clients, as well as commercial projects all over the world, Kelly Hoppen's latest creation combines glamour with practicality. The Vivaro - the lynchpin of Vauxhall's award-winning van range – has been wrapped in a bespoke taupe wrap, displaying her logo and signature.
The Vauxhall Vivaro is built in Luton, where 215 units roll off the production line per day and employs 1,300 people.
Kelly Hoppen, MBE, said; "I particularly love the idea of working with British manufacturers such as Vauxhall Motors as I am an ambassador for the Business is GREAT Britain campaign, a government led initiative to build confidence amongst businesses. I loved the idea of putting my style on the van and as I've just launched my online store, it's been very useful to have the van for product deliveries."
Kelly continued, "It is also clear that more and more woman are driving vans these days as they are running their own businesses. Perhaps the white van man is a thing of the past."
The Vauxhall Vivaro will promote her new online venture, 'Kellyhoppen.com'. The luxury online store features a range of Kelly designed accessories, bed linen, cushions, candles and gifts, all carrying the stamp of the multi-award winning designer's iconic neutral-yet-opulent style.
Older

Articles