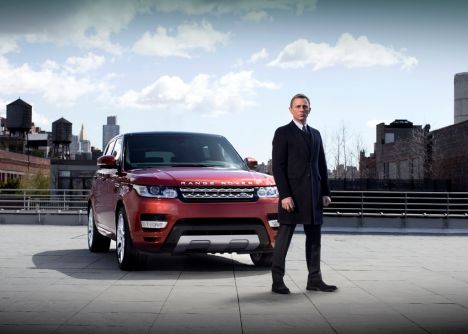 All-New Range Rover Sport Revealed
26th March 2013
The all-new Range Rover Sport, revealed to the world today on the streets of New York, is the ultimate premium sports SUV - the fastest, most agile and responsive Land Rover ever. The Manhattan skyline was the perfect backdrop for this world premiere with more units of Range Rover Sport sold in the United States than any other global market and New York being the model's best-selling city.
Developed alongside the highly-acclaimed all-new Range Rover, the new Range Rover Sport now delivers the brand's best-ever on-road dynamics together with class-leading, genuine Land Rover all-terrain capability. The new, technology-packed, Range Rover Sport, presents customers with a more assertive and muscular exterior, more luxurious interior and the flexibility provided by the option of occasional 5+2 seating.
Exploiting Land Rover's breakthrough lightweight suspension design and innovative dynamic chassis technologies, the Sport's all-new, first-in-class aluminium architecture achieves a weight saving of up to 420kg. This transforms the vehicle's dynamic performance, enabling it to blend agile handling with exceptional comfort, offering a unique mix of sporting luxury and a dynamic, connected driving experience, along with CO2 emissions reduced to 194g/km.
Speaking ahead of the official world premiere at the New York International Auto Show, Land Rover Global Brand Director John Edwards said: "The all-new Range Rover Sport is a vehicle that has been designed and engineered without compromise. With Land Rover capability at its heart, it is one of the most road focussed vehicles we've ever produced, but of course still offers unsurpassed all-terrain capability. It is a vehicle which is designed to be driven. We've taken ride, handling and agility to another level for Land Rover to deliver a truly rewarding, sporting, drive together with unmatched luxury, capability and versatility.
"Building on the success of the recently launched flagship Range Rover, the new Range Rover Sport also employs a vast array of new technologies which help to transform its performance, refinement and all round capabilities," adds Edwards.
The new Range Rover Sport will be produced in the state-of-the-art low-energy manufacturing facility in Solihull and go on sale in the third quarter of 2013.
Older

Articles