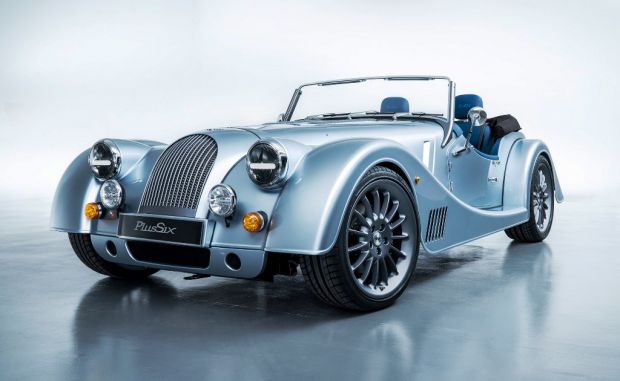 Morgan announce new Plus 6 at Geneva
5th March 2019
In its landmark 110th year in business, the Morgan Motor Company is excited to introduce the next generation of Morgan sports car, debuted today at the Geneva International Motor Show. The all-new Morgan Plus Six is, without exception, the most dynamically capable Morgan ever produced.
Further extending Morgan's unique blend of craftsmanship and technology, the Plus Six celebrates Morgan's timeless design, underpinning it with the newly introduced CX-Generation aluminium bonded platform and the latest BMW powertrain. An expanding in-house Research and Development team, a growing list of strategic technical partners and an extensive testing programme ensure the Plus Six is the most thoroughly developed Morgan product to date.
The Plus Six represents several firsts for Morgan, most notably the first time the company has utilised a turbocharged engine. The BMW 2019 B58 TwinPower Turbo inline 6cylinder engine is a latest generation BMW powertrain and Morgan has worked alongside BMW to fine-tune the performance capabilities of the Plus Six. The seemingly instant acceleration from the engine propels the Morgan Plus Six from 0-62mph (0-100km/h) in just 4.2 seconds, continuing to a top speed of 165mph (266km/h). The raw power of the engine is managed through a ZF 8 Speed automatic transmission, complete with Sport and Plus modes. Manual shifting through the eight gears can be achieved using the paddles or gear lever.
A closer look at the iconic Morgan silhouette gives a number of clues to just how radically different the Plus Six is to any other Morgan model before it. Subtle vents provide a hint of the raw power and performance that underpin the beautiful flowing lines of the exterior.
Make no mistake, whilst familiarly Morgan, almost every part of the Plus Six has been refined or redesigned, with less than one percent of the 4,000 parts being shared across other Morgan models. A completely redesigned cabin celebrates the natural materials used within Morgan craftsmanship, as well as offering greater levels of personalisation than ever before. The new cockpit is more driver focussed and encompasses appropriately introduced technology, whilst also allowing customers more leg room and increased stowage space.
The Plus Six is one of the cleanest vehicles within the Morgan range. The introduction of the new powertrain has led to a CO2 figure of 170g/km and a combined MPG figure of 38.2mpg. The achievement of a more fuel-efficient vehicle allows the Plus Six to compete in key European markets, which have previously proven prohibitive for high-performance Morgans due to tax reasons in recent years.
An almost limitless combination of colourways and additional options are available for customers to individually tailor their Plus Six.
The Plus Six is on sale from today (5th March 2019), priced from £77,995 inc VAT - Two 'First Edition' specifications are available to order and will be the first vehicles to be produced, priced from £89,995 inc VAT.
Older

Articles