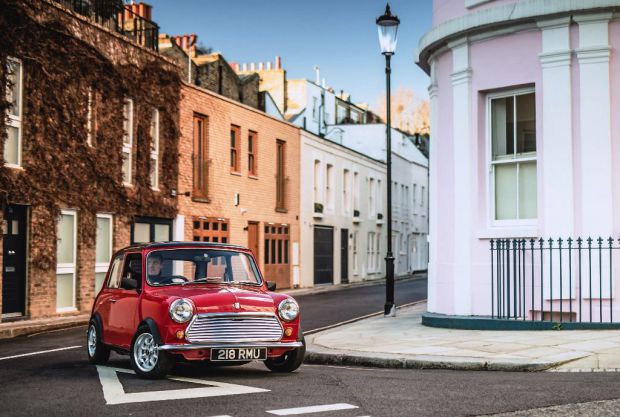 Swind announces limited prodution run of electric classic Mini
15th February 2019
Sixty years after the iconic Mini first hit the streets, a British technology company has unveiled the first production electric classic Mini at the London Classic Car Show. The Swind E Classic Mini combines a fully-restored body and bespoke powertrain developed in-house by industry leaders Swindon Powertrain, specialists that have been providing engineering expertise to automotive and motorsports industries for over 40 years.
Produced in Wiltshire at the firm's recently-upgraded facility, the Swind E Classic Mini instils all the affection of the original with state-of-the-art EV technology to create an individual, nippy, zero-emissions city car with character. While retaining the same look, proportions and spirit of the original Mini, the bespoke 80kw motor and single transmission ensures responsive and smooth power that can be used without incurring congestion charge fees.
Available to order immediately in either left- or right-hand-drive, the limited production run of 100 cars starts at £79,000 and comes with an unlimited mileage one-year warranty and MOT.
To ensure the E Classic Mini can stand up to the rigours of today's driving, the prototype has completed over 10,000 real world miles alongside thousands of hours of virtual simulations of the bespoke powertrain. Contemporary corrosion protection together with completely new brake and suspension parts ensure Swind's E Classic Mini is substantially easier to live with than other classics.
This highly-advanced Swind E Classic Mini is the brainchild of Swindon Powertrain's managing director Raphael Caillé, who saw an opportunity to produce an electric car with a soul that people from all walks of life would instantly fall in love with. "This is the first time an electrified classic Mini has entered production," confirms Caillé. "There have been one-offs and prototypes before, but Swind is the first company to launch such a car to the public. The classic Mini has such a special place in people's hearts, not only in the UK but around the world. The packaging of Sir Alec Issigonis' 1959 design was truly ground-breaking and now we are making it relevant again. Its compact size and good visibility, together with contemporary performance and handling, makes it a car you'll want to drive in the city and put a smile on your face."
For more information visit www.swind.life
Older

Articles