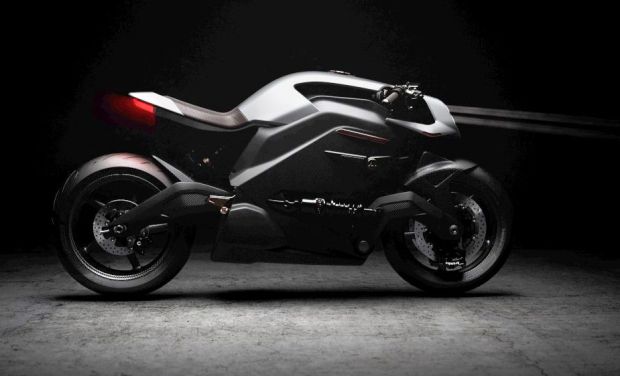 Arc reveal groundbreaking EV motorbike in Milan
6th November 2018
Arc has chosen to reveal its groundbreaking new electric motorcycle, the Vector, at the EICMA Motorcycle Show in Milan. The bike is notable equally for its extremely high tec, high speed and high price.
Arc was founded by Mark Truman, the former head of Jaguar's White Space (the division that dreamt up all the 'off the wall' ideas). Truman and his team developed the electric motorcycle concept that eventually became the Arc Vector revealed today.
The 95 kW Arc Vector is rated for a top speed of 150 mph (241 km/h). 0-60 mph (97 km/h) acceleration takes just 2.7 seconds.
Estimated range is 120 miles (193 km) on the open road or 170 miles (274 km) in the city.
With only 355 units being built and with an eye-watering price of £90,000, the Arc Vector definitely isn't an electric motorcycle for everyone – it's for millionaires that value the uniqueness and sustainability of this extraordinary new bike.
Instead of a conventional frame, it uses a carbon fibre monocoque design and the body houses all of the electronics including the battery, motor and controllers. A carbon fibre swingarm, custom Ohlins dampers and Brembo brakes mounted in the rarely seen 6 o'clock position well illustrate the list of high grade components used on the Vector. The Arc Vector's battery cells are apparently unique and the bike claims to be 25% lighter than its nearest competition.
A major part of the Arc Vector's design is how it incorporates wearable technology, including an HUD display helmet which provides pertinent information to the rider, allowing him to keep his eyes on the road. The helmet also includes a rearview camera allowing the rider clear rearward vision. A haptic jacket also provides tactile feedback, such as giving a rider physical cues when a car is approaching from behind. The jacket uses embedded speakers to provide vibration feedback, and under certain operating modes, allow the rider to 'feel' the music.

Older

Articles