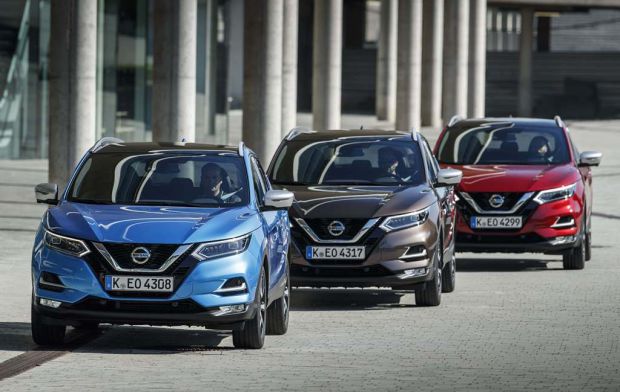 Best-selling Nissan Qashqai presented with special accolade
11th October 2018
The Nissan Qashqai was honoured in recognition of the model's significant contribution to the success of the British car industry since its introduction in 2007.
Nick Francis, Sun on Sunday Motoring Editor said; "The Qashqai has the legacy of being the first car to spark Europe's obsession with family SUVs ten years ago, and is still the yardstick against which all other crossovers are compared to. The fastest UK built car to reach half a million sales, it's easy to see why. The Qashqai is the jewel of the British car industry."
Refreshed in 2017 with an extensive range of updates, the Nissan Qashqai has been further enhanced in 2018 with a new line-up of efficient petrol powertrains, plus an all-new NissanConnect infotainment system.
More than 3 million Qashqai models have been produced in the UK at Nissan's Sunderland manufacturing plant since 2007. The second generation of the model, launched in 2014, became the fastest ever UK-built vehicle to pass the half million production mark in a record-breaking 21 months.
At the heart of the Qashqai's appeal for more than 10 years has been its position as the ultimate urban crossover. It successfully blends the practicality and desirability of an SUV with the footprint, driving dynamics and running costs of a hatchback.
Alex Smith, managing director, Nissan Motor GB, said: "The Qashqai is the original crossover, inventing the segment as we know it, and is the most successful model in Europe in Nissan's history. The fact that Qashqai is designed, engineered and made in the UK is something we are immensely proud of. We would like to extend our sincere thanks to the News UK judges for recognising Qashqai with this outstanding award."
The News UK Awards celebrate innovation across the UK automotive industry and were judged by consumers as well as automotive journalists across News UK's four news outlets – The Times, The Sunday Times, The Sun and talkSPORT.
Prices for the Qashqai fitted with the new petrol engine start from £19,595 OTR RRP for a Visia 1.3 DIG-T 140 – an unrivalled price point within the UK's C-segment hatchback and SUV markets.
To find out more about the Nissan Qashqai, visit; https://www.nissan.co.uk/vehicles/new-vehicles/qashqai.html
Older

Articles