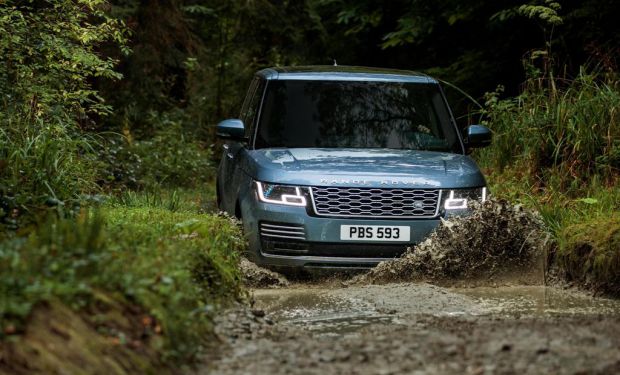 2018 MY Range Rover shows its new face
11th October 2017
More than ever, Range Rover represents the pinnacle of luxury travel, making every journey a treasured experience whether driving or being driven.
Conceived nearly 50 years ago for the country set to use on the estate and then drive to the townhouse, Range Rover has continuously evolved to lead the world around it, remaining the peerless luxury SUV.
Today technology drives the new Range Rover's next major step, with a plug-in hybrid electric powertrain providing sustainable luxury with new levels of efficiency and capability complementing its refinement and desirability. The exterior design has evolved, while heightened comfort and new consumer technologies have been added to the cabin.
Comfort-enhancing functions transform the travelling experience for the driver and passengers. The front seats feature up to 24-way movement thanks to the new seat frames, with wider and deeper foams as well as heated arm rests. In the rear a completely redesigned cabin and seating layout create a tranquil sanctuary with no compromise to the rear load space.
If you're working while being driven, up to 17 connection points including domestic plug sockets, USB, HDMI and 12-volt are all available; 4G Wi-Fi hotspots for up to eight devices and convenient storage are all designed for the business traveller. The cabin is tailored for relaxation with luxurious seats offering 25 massage programmes thanks to Hot Stone massage technology within the seat backs.
Wider, softer seats offer sumptuous comfort. Reclining by up to 40 degrees, they make the most of the additional 186mm legroom (now 1,206mm in total) which the Autobiography Long Wheelbase model has to offer, and can be deployed at the touch of button. The exemplary comfort extends to heated and cooled seats, plus heated arm, foot and calf rests. For additional convenience and personalisation, all seat functionality can be controlled via a smartphone app, whether inside or outside the vehicle.
"Our customers are very clear about what they want from any new Range Rover. 'Don't change it, just make it better,' they tell us, so everything we've done has been about enhancing our flagship SUV.After nearly 50 years the fourth generation Range Rover is the finest so far, ensuring the original luxury SUV remains the choice for discerning customers the world over."
Gerry McGovern, Chief Design Officer, Land Rover
Older

Articles