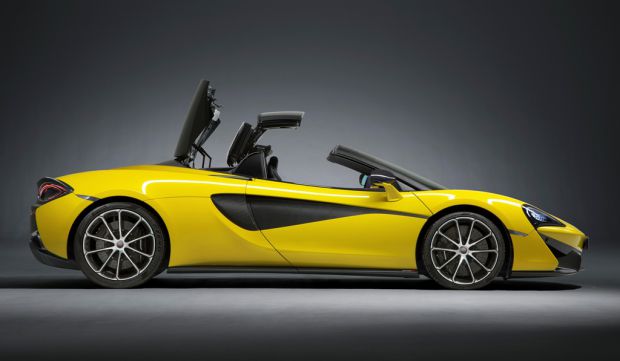 McLaren take the lid off the new 570S Spider
14th June 2017
The new McLaren 570S Spider combines the exceptional dynamism and refinement of the 570S Coupé with the extra exhilaration of open-air motoring. Hand-assembled in Woking, England, the 570S Spider is the most attainable McLaren Spider ever and brings supercar attributes such as carbon-fibre construction, a mid-engined layout and extreme performance for the first time to the luxury sports convertible segment.
The two-seat, rear-wheel drive 570S Spider is the third bodystyle in McLaren's Sports Series portfolio, lining up alongside the Coupé and the GT. Compared to the Coupé, the 570S Spider adds a neatly integrated, retractable hardtop that when lowered delivers an even more immersive and exhilarating driving experience. The two-piece roof – which is engineered using technology proven in the McLaren 650S and 675LT Spider models – is constructed of lightweight composite panels and creates a purposeful, sleek appearance whether raised or lowered.
Most importantly, there are no performance compromises versus the 570S Coupé, with the Spider maintaining the same electrifying pace, dynamic excellence and impressive refinement. The carbon fibre MonoCell II chassis at the heart of all Sports Series cars does not suffer any reduction in strength or stiffness in convertible guise, or require any additional structural actions. This has allowed McLaren engineers to design and develop the 570S Spider without concerns that are potentially a significant issue with steel or aluminium structures.
"The McLaren 570S Spider is the most attainable McLaren Spider to date and adds yet another dimension to the McLaren Sports Series family. This is a convertible without compromise; its mid-engined layout and carbon fibre MonoCell II chassis guarantee the same thrilling dynamic performance and exceptional driver involvement enjoyed in a 570S Coupé, but with the added attraction of a retractable hard-top that delivers the extra exhilaration of roof-down motoring."
Mike Flewitt, Chief Executive Officer, McLaren Automotive
Older

Articles