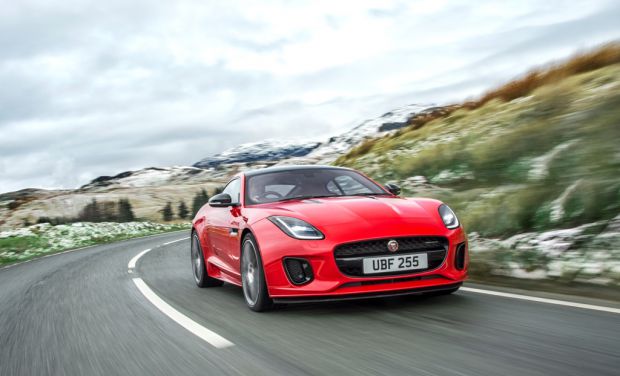 Jaguar announce new 4 cylinder F-Type
12th April 2017
Jaguar is broadening the appeal of the new F-TYPE with the introduction of the state-of-the-art four-cylinder Ingenium petrol engine.
The pairing of Jaguar's all-aluminium two-seat sports car with the advanced 300PS 2.0-litre turbocharged powerplant delivers Jaguar sports car DNA with enhanced agility and improved efficiency and affordability. This is a true F-TYPE, with its own unique character.
The new model retains the performance expected from the F-TYPE, and can accelerate from 0-60mph in only 5.4 seconds and achieve a top speed of 155mph. The turbocharged engine's high maximum torque of 400Nm, generated from just 1,500rpm, together with the eight-speed Quickshift transmission, delivers exceptional response throughout the rev range.
Not only is the 300PS Ingenium engine the most powerful four-cylinder unit ever offered in a production Jaguar, it also generates the highest specific power output of any engine in the F-TYPE range: 150PS per litre. It also makes this the most efficient F-TYPE in the range, with a 16 per cent improvement in fuel economy over the 340PS V6, together with CO2 emissions of just 163g/km on the European combined cycle.
Like all members of the Ingenium family, the F-TYPE's 300PS powerplant was designed and developed in-house. It is manufactured in the UK at Jaguar Land Rover's £1billion Engine Manufacturing Centre, alongside the 200PS and 250PS four-cylinder petrol engines, and the 150PS, 163PS, 180PS and 240PS four-cylinder diesels.
The Ingenium engine contributes to an overall vehicle weight reduction of 52kg – most of which is over the front axle – and this is key to the four-cylinder F-TYPE's enhanced agility. Meticulous tuning of the chassis to complement the new engine delivers even greater steering response, body control and ride comfort.
The introduction of the four-cylinder does not mean that drivers lose out on aural feedback or reward: these have always been an essential part of the F-TYPE's appeal, and have not been compromised. A meticulously-tuned active exhaust is standard on entry-level F-TYPE models, while the R-Dynamic variants feature a switchable active exhaust for an even more involving driving experience.
Older

Articles