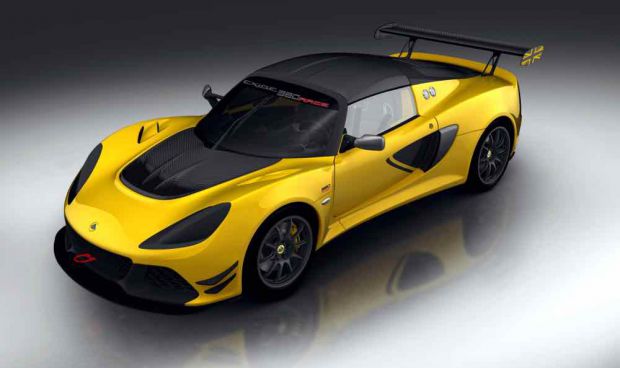 Lotus announce track-only Exige Race 380
12th January 2017
Unapologetic, uncompromising and built to win, Lotus has announced the development of the mighty Exige Race 380 - the track-only sibling of what has been hailed as one of the marque's most significant and sensational cars, the critically acclaimed Exige Sport 380.
Combining Lotus' vehicle development skills with its motorsport pedigree, the class-leading competition car will set the pace when the first production cars reach owners in May 2017. As part of the current Exige's development cycle, the Race 380 will become the race car of choice for teams as well as privateers for the 2017 / 2018 season.
Taking one of the world's best supercars, the Exige Sport 380, the new model provides the ultimate in race-bred engineering and comes with a host of competition-focused components as standard.
Gearbox, suspension, aerodynamics and electrical systems are among the items that have been modified to reflect the car's role but, despite the fact that the new Race model is not available in a road-legal specification, the majority of the original car's configuration is retained, thanks to the Exige Sport 380's highly advanced development.
Unveiled late last year, the Lotus Exige Sport 380 has proved to be one of Lotus' most successful new models in recent years, with orders for the next four months' production already allocated.
Jean-Marc Gales, CEO of Group Lotus plc, commented: "The Lotus Exige Sport 380 is a real giant slayer on the road, and one of the quickest A to B supercars around. It gave us the ideal platform from which to develop the new Exige Race 380 - a peerless competition car designed to beat the best. By setting its weight below 1000kg, its power to weight is unsurpassed in its class. When lapping Hethel, it's a phenomenal 1.5 seconds faster than the previous Exige Cup R - a massive performance gain. It's an unparalleled race car that follows the philosophy of Colin Chapman and we can't wait for customers to experience its capabilities."
Older

Articles