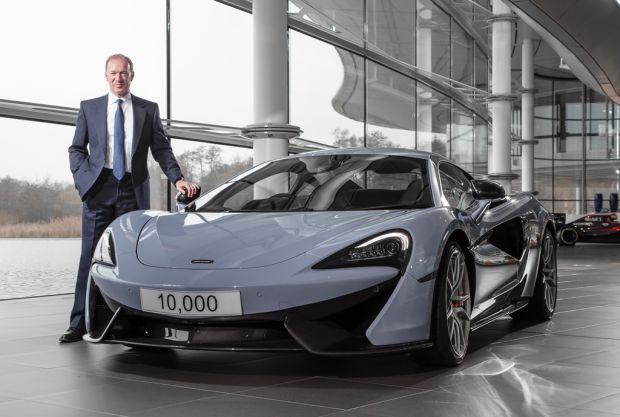 McLaren Automotive almost double sales in 2016
5th January 2017
McLaren Automotive, the British manufacturer of luxury sports and supercars, has recorded another record year of sales growth with a near-doubling of its sales volume year-over-year, selling a total of 3,286 cars in 2016 compared to 1,654 in 2015. The 99.3 per cent improvement in sales performance also follows the company's announcement of a third consecutive year of profitability in 2015 and the production milestone of the company's 10,000th car, all capping another highly successful and record-breaking year.
The dramatic sales development, from 1,654 cars in 2015 to 3,286 cars in 2016, was thanks to growth across all regions and exceeded the company's own expectations on the 2016 sales performance, previously estimated as 3,000 cars.
In its first full year of production, the Sports Series family accounted for 2,031 deliveries, the majority of which came from the recently-introduced McLaren 570GT and 570S models. The Super Series also continued its success story thanks, in large part, to the McLaren 675LT Coupé and Spider models. Having both sold out in a matter of weeks, the limited production, even more driver-focused and higher-performance derivatives of the Super Series started production in mid-2015 but continued through 2016. In total, 1,255 Super Series cars were sold in 2016.
Geographically, North America continued to be McLaren Automotive's single largest market with deliveries of 1,139 cars, a 106% increase over 2015. Europe ended 2016 selling 996 cars in total, an increase of 153% whilst the rapidly-developing market in China sold 228 cars in total. The Asia Pacific region grew by 90% while the newly combined Middle East, Africa and Central and South America region grew by a notable 69%. In addition, the global footprint of the McLaren retailer network continued apace with new dealer facilities opened in Bristol (UK), Boston and Palm Beach (USA), Gold Coast (Australia) and Fukuoka in Japan.
Older

Articles