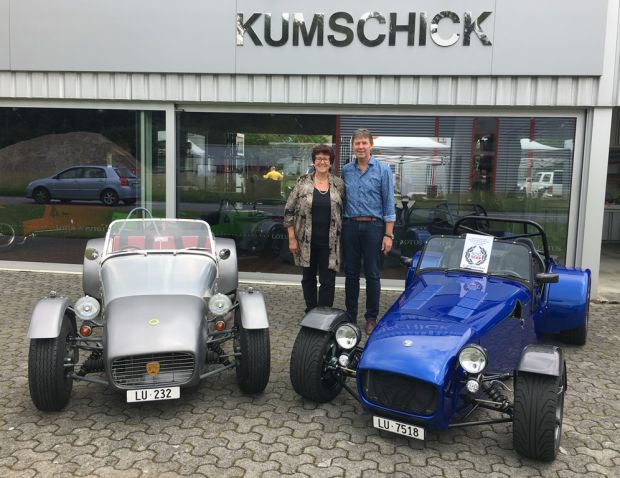 Swiss Caterham dealer celebrates sale of 500th Seven!
21st November 2016
Swiss Caterham dealer, Kumschick Sports Cars, has reached a major milestone by selling its 500th Caterham Seven.
After completing flying laps in the dealer's Seven 485, race driver and European NASCAR Whelen Euro Series winner, Joaquin Gabarron, signed on the dotted line to buy the car.
The range-topping 485 variant of the iconic British sportscar is the latest and most powerful model available in mainland Europe.
Gabarron's blue 485S is the 500th Seven to be imported in Kumschick's 38-year history, which is now one of the largest European Caterham dealers.
Caterham's Chief Commercial Officer, David Ridley, said: "The 500th milestone for our Swiss dealer is the perfect way to celebrate 38 years of dedication to the Caterham brand and is also another demonstration of Caterham's continuing international expansion.
"The fact that the buyer has held a race licence since the age of 18 and won the European NASCAR Whelen Euro Series Championship at Le Mans also goes to prove that the performance of the Caterham Seven can still pack a thrilling punch, whether you are a novice driver or a seasoned professional."
Kumschick Sports Cars is located on Luzernerstrasse 57, CH- 6247 Schötz.
For Kumschick Sports Cars enquiries please contact the showroom on +41 41 980 05 80, or via http://www.kumschick.com/Kontakt-und-Standort.
Older

Articles