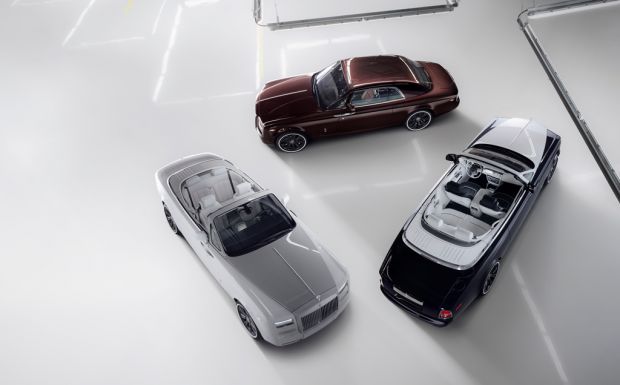 Bespoke exit for Rolls-Royce Phantom Coupe and Drophead Coupe.
17th May 2016
"As we begin to write a bold new chapter in Rolls-Royce history, I am delighted to present a Bespoke Collection that so elegantly celebrates two of the world's rarest and most celebrated luxury goods; Phantom Drophead Coupé and Phantom Coupé. Phantom Zenith Collection motor cars speak of the marque's unrelenting commitment to setting and advancing the standard by which all other luxury goods are judged." Torsten Müller-Ötvös, Chief Executive Officer, Rolls-Royce Motor Cars.

From its foundation 112 years ago, the story of Rolls-Royce Motor Cars has been defined by a restless commitment to setting and raising the standard by which all other luxury goods are judged. On January 1 2003, this philosophy was realised emphatically with the handover of the first seventh generation Phantom to its customer at the newly established Home of Rolls-Royce in Goodwood, England. The world's most discerning patrons of luxury and respected commentators across the globe were instantly endeared to a powerful yet elegant statement of unabashed contemporary luxury. Rolls-Royce had once again established its legend as maker of the 'Best Car in the World'.

Four years later, Phantom Drophead Coupé revived the notion of uncompromised open-top luxury touring; a legacy that is being continued with beautiful effect with 2016's Rolls-Royce Dawn. Phantom Coupé followed in 2008, taking its place as one of the rarest and most celebrated Continental Grand Tourers of all time – paving the way for its natural heir: Wraith which cemented itself as the ultimate gentleman's gran turismo in 2013.

Today, the marque stands on the cusp of a bold new era, following the announcement of the eighth generation Phantom limousine and its all-new aluminium architecture that promises to underpin all future Rolls-Royce motor cars.

Now the time has come for Phantom Drophead Coupé and Phantom Coupé to leave the stage, a moment that will be marked with a remarkable Bespoke Collection, conceived with one purpose; to once again set the highest standard by which everything is judged.

The Phantom Zenith Collection – representing some of the very last Phantom Drophead Coupé and Phantom Coupé motor cars ever to be built, will serve as true collectors' pieces. Indeed all 50 examples have already been commissioned by connoisseur customers who will add them to some of the world's most significant luxury collections, safe in the knowledge that their numbers will never grow and their value will never be eroded by proliferation.

Phantom Zenith Collection serves to celebrate these two extraordinary motor cars with a suite of exquisitely executed bespoke pieces, designed to amplify the beauty and luxury of two of the rarest and best-loved luxury goods in the world.
These extraordinary motor cars, among the last ever Phantom Drophead Coupé and Phantom Coupés are currently being crafted at the Home of Rolls-Royce. 2016 also represents the final year of production for the seventh generation Phantom limousine, with connoisseur customers invited to take the last opportunity to commission deeply personal, Bespoke expressions of this most seminal motor car. The order books for these very last customer commissions will close imminently.

Older

Articles