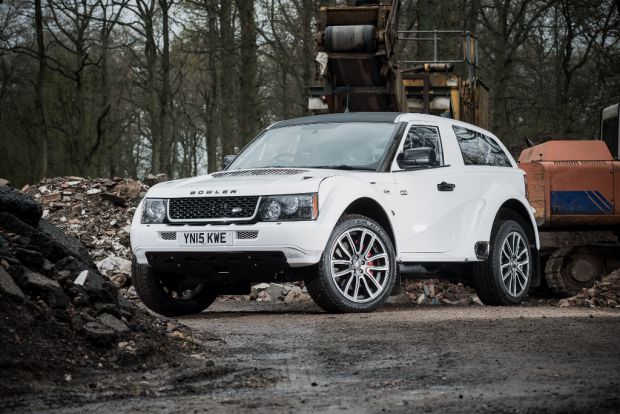 Super-rare road-going Bowler EXR-S comes up for auction
26th April 2016
A supercharged Bowler EXR-S all-terrain 'supercar', combining the very best of luxury and performance, will be auctioned at Silverstone Auctions' May Sale, at Silverstone race circuit on Friday 20th May.
Chassis no.1, this 2015 Bowler EXR-S is the very first of just three right-hand drive examples and the latest creation from Derbyshire-based endurance rally specialist, Bowler Motorsport.
On the back of the successful Tomcat, Bowler announced its next project, known as the Nemesis, in late 2009. A delay in plans meant that the new vehicle was finally relaunched as the EXR in 2014. The mega high-performance road version, known as the EXR-S, was to follow in 2015 when this exact car, chassis no.1, was finally produced.
Created for a private client of Silverstone Auctions, the car has covered just 480 miles from new and will be offered at the sale at an estimate of between £95,000 and £115,000.
Built on a UK, hydroformed Range Rover Sport chassis with an integrated full FIA roll cage, this EXR-S is the ultimate all terrain performance car. With its colossal 5.0 litre V8 supercharged engine giving 550 BHP and an amazing 625 nm of torque, the EXR- S has an electronically limited maximum speed of 250 kph and can achieve 0-60mph in an incredible 4.2 seconds.
Not only this, it has a 6 speed automatic gearbox with paddle shift and features a special 'E' control rear differential and transfer gearbox, and 50/50 permanent four-wheel drive. Double wishbone, fully independent front and rear suspension, bespoke Bilstein dampers, Eibach progressive springs, and Brembo brakes with 6 pot calipers, all add to the mega performance of this car.
Inside it's a totally different story, with all the luxury and creature comforts of a modern Range Rover. Leather interior and a rally dashboard with competition detailing, dual climate control, Pioneer audio system with Bluetooth and iPod compatibility linked to enormous speakers in the rear, contrast amazingly with the car's racecar roots.
Speaking ahead of the sale, Nick Whale, managing director of Silverstone Auctions, explains "What a machine this is! The power and performance of this car is genuinely mind blowing. This is a truly stunning and very special motor car which offers an outstanding driving experience."
This really is the ultimate go anywhere supercar, as good in the dunes of the desert as on the Kings Road in Chelsea.
Nick added, "This is a unique opportunity to acquire the latest top of the range "all terrain supercar" for a fraction of the cost new today."
Older

Articles