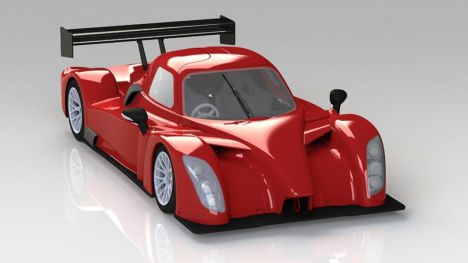 Radical RXC announced
18th December 2012
The Radical RXC blows apart what was previously thought possible in the supercar marketplace. RXC is faster, more visually aggressive, more dynamic and performance-focused than anything this sector has ever seen.

From the makers of the Nürburgring production car lap record holder and the world's most prolific producer of race cars, comes a Le Mans-inspired racer for the road alongside a race variant ready for international GT and sportscar championships. Road trips, trackdays and race weekends will never be the same again.

The RXC is the culmination of three and a half years of design and development to create the world's most extreme road-legal coupe. Influenced and inspired by contemporary LMP design, it brings a true taste of Le Mans to the road. Dramatically styled, uncompromising in performance but with class-beating running costs, the RXC opens up hyper-GT ownership to a wider audience than previously possible.

The bodywork clothes a high-tensile, laser-cut CDS tubular steel spaceframe, developed in the same way as Radical's FIA-approved SR series chassis. The integral rollcage ensures maximum occupant safety and vehicle stiffness, with both the nose and tail of the car boasting monocoque crash boxes.
The engine is a 3.7-litre 24-valve V6 unit with twin-independent variable cam timing and sequential multi-port electronic injection, controlled by a bespoke Radical/AER Life engine management system as employed successfully on the SR3 SL roadster. Performance figures for the RXCgive a 0-62mph time of just 2.8 seconds with a top speed of 175mph.
Not only is the RXC Radical's most technically advanced car but it is also its most comprehensively specified. The interior of the RXC features a multi-function fully adjustable steering wheel, EPAS power steering, electrically adjustable and heated wing mirrors, air conditioning, heated windscreen with single wiper and an adjustable pedal box. Occupants sit in bespoke Corbeau FIA-compliant trimmed bucket seats with six-point racing harnesses.


Older

Articles