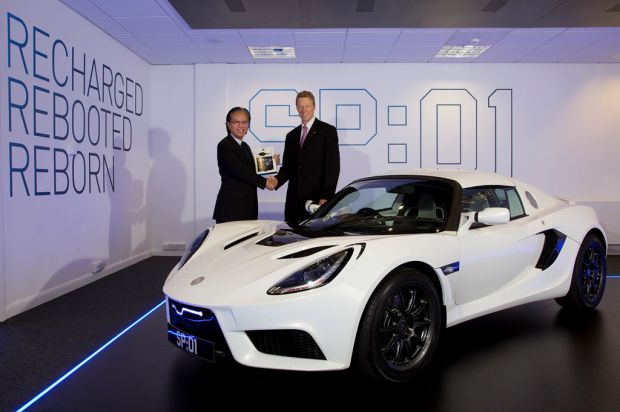 Detroit Electric's first production SP:01 leaves Leamington Spa for China
25th February 2016
The first production-specification Detroit Electric sports car has rolled off the UK assembly line and has been exported to China, as the electric vehicle company's expansion in Asia continues.
The first SP:01 pure electric vehicle was handed over to Detroit Electric's new importer for China, Jowett Motors (Asia) Ltd, in a ceremony at the company's main assembly plant in Leamington Spa, UK.
The white SP:01 was presented to Dr Richard Lee, Chairman of Jowett Motors, by Detroit Electric Head of Engineering, Ben Boycott. It will be used as a demonstrator vehicle to fulfil a stream of enquiries from prospective customers that followed the appointment of Jowett Motors last April and the appearance of the SP:01 at Auto Shanghai 2015.
The Detroit Electric SP:01, the world's lightest and fastest two-seat pure-electric sports car, goes on sale in Asia and Europe over the coming months. It promises blistering acceleration, reaching 60mph from standstill in just 3.7 seconds (0-100km/h in 3.9 seconds) and a sprint to an impressive top speed of 155mph (249km/h).
Featuring a 285HP / 210kW electric motor and carbon fibre body panels, the car is fitted with a single speed automatic transmission as standard, with the option of both twin-speed automatic and six-speed manual transmissions. The SP:01 is supplied with both hard and soft tops as standard. The battery in the SP:01 has been integrated into the chassis as a stressed member, adding stiffness to enhance handling and safety. The military grade, lightweight high density lithium battery is the most energy-dense automotive battery pack in the world, offering over 140Wh/kg, benefitting range while keeping overall vehicle weight low.
Ends
Older

Articles