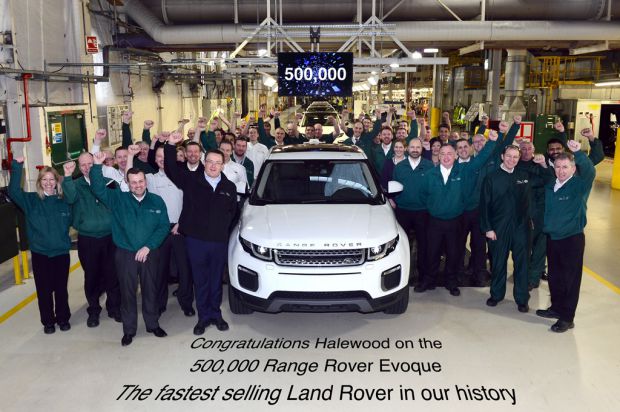 JLR clocks up half million Evoques at Halewood!
24th February 2016
Land Rover is celebrating the production of its 500,000th Range Rover Evoque at Halewood, just over four years after deliveries of the luxury compact SUV commenced.
Evoque is the fastest-selling and most successful Land Rover ever produced, having become the quickest to reach the half-a-million vehicle production landmark.
One in every three Land Rovers sold around the world is an Evoque and strong global demand ensures the production line at Halewood is in operation 24 hours a day, with a new vehicle coming off the line every 80 seconds.
Gerry McGovern, Chief Design Officer, Land Rover, said: "Evoque has been a huge success for Land Rover winning more than 165 international awards, bringing new customers to the brand and evolving to stay ahead of the competition. With our bold new Evoque Convertible we have broadened the range and will attract even more new customers to the brand."
The launch of the Evoque marked a major milestone in the transformation of the fortunes of the Halewood manufacturing plant which welcomed £250mn of investment to bring this award winning model to market. Its arrival at the Merseyside based site saw the introduction of a third shift and in just four years the plant's workforce trebled and production quadrupled. Evoque continues to support Range Rover's reputation for engineering excellence and innovation. For the 2016 model year, the luxury compact SUV was enhanced with refinements to the ground breaking exterior design including the availability of full-LED adaptive headlamps – a first for Jaguar Land Rover. An advanced line-up of new Ingenium diesel engines also delivers best-in-class CO2 emissions of 109g/km and fuel consumption of 68mpg (4.2 l/100km), making Evoque the most efficient Land Rover model.
First UK customer deliveries of the new Evoque Convertible will be in June this year with prices starting from £47,500 for the HSE Dynamic.
Older

Articles