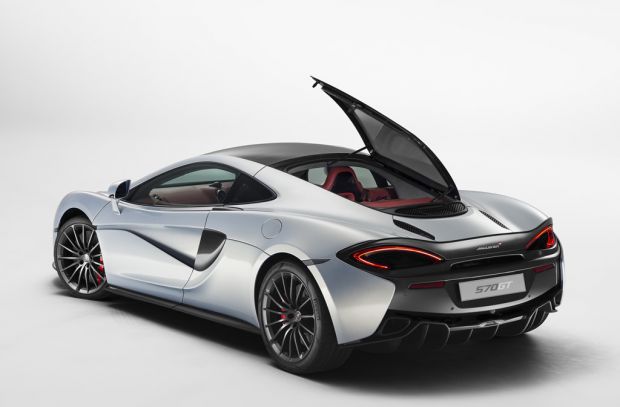 McLaren announce third new model in their Sports Series line up
24th February 2016
The McLaren 570GT will join the 570S Coupé and 540C Coupé as the third model in the recently announced Sports Series family. The clean lines of the revised glasshouse give the 570GT a sleek and refined silhouette, and mark out the second of three bodystyles which will eventually complete the Sports Series. A standard fixed glass Panoramic Roof provides a bright, open cabin running through to the large rear glass hatch creating the most luxurious and relaxing McLaren driving environment.
The 570GT is the most practical model ever launched by McLaren Automotive, targeted towards longer journeys and weekends away. As with all Sports Series models, ingress and egress are optimised through a lower and narrower sill, while the signature dihedral doors open with a more upward arc. Within the spacious and ergonomically-optimised cabin, a pair of eight-way electrically adjustable sports seats are upholstered in leather as standard.
The standard fixed glass Panoramic Roof provides a bright, open cabin with a dramatic glasshouse design running through to the large rear glass hatch. The front luggage area remains unchanged from the Coupé, providing 150 litres of stowage, while a further 220 litres of space is available behind the seats on the leather-lined Touring Deck. This additional space is accessed via the side opening Glass Hatch bringing the total storage space for the 570GT to 370 litres.
The 570GT is fitted with the McLaren-developed 3.8-litre twin turbo V8 M838TE engine which debuted in the 570S Coupé. Power and torque remain at 570PS (562bhp) and 600 Nm (443lb ft) and power is delivered to the rear wheels via a seven-speed seamless-shift transmission with adjustment through Normal, Sport and Track settings to produce one of the most rewarding and engaging driving experiences in the sports car class.
First introduced on the iconic McLaren F1, and now signature to each of the models in the McLaren Automotive range, the 570GT features distinctive dihedral doors, which open upwards and outwards to aid ingress and egress from the cabin.
As with all McLaren models since the introduction of the MP4-1 Formula 1™ car in 1981, the 570GT uses a carbon fibre chassis. The MonoCell II debuted in the 570S Coupé, and is shared across the Sports Series models. Weighing just 75kg, the lightweight yet extremely stiff chassis contributes to a dry weight of 1,350kg (2,976lb). This equates to 422PS per tonne, providing breathtaking performance more commonly seen in the supercar segment: 0-100 km/h (0-62 mph) in 3.4 seconds, 0-200 km/h (0-124 mph) in 9.8 seconds, with a top speed of 328 km/h (204 mph). Despite supercar performance figures, there have been no sacrifices to the everyday drivability and practicality of the 570GT which returns 26.6 mpg (10.7 l/100 km) on the EU combined cycle and emissions of 249 g/km.
Older

Articles