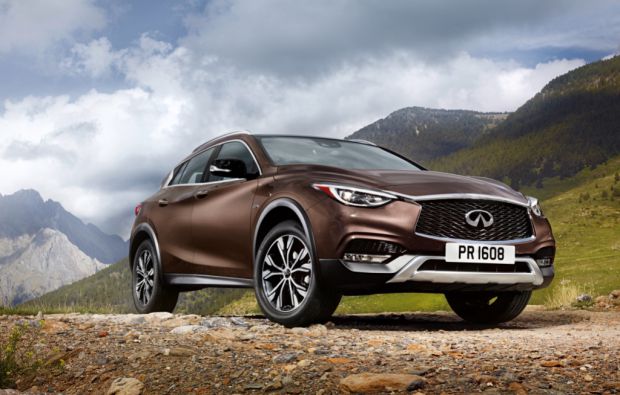 New Infiniti QX30 to be built alongside sibling Q30 in Sunderland
11th February 2016
Created for a new generation of premium buyers who appreciate category-defying design inside and out, the all-new Infiniti QX30 premium active crossover boasts a purposeful appearance that makes a bold visual statement – and joins the Q30 as part of Infiniti's new premium compact model line-up.
Remaining true to the powerful and elegant design cues that guided the original QX30 concept, the car's highly sculpted exterior, unique crossover stance and asymmetric cabin design exemplify Infiniti's design-led approach to product development.
In addition to its striking appearance, the QX30 offers an elevated ride height, confidence-inspiring handling, and a versatile attitude, underpinned by an intelligent all-wheel drive system. As a result, the vehicle is able to take on urban, suburban and winding rural roads in all driving conditions.
The next step for Infiniti in the premium compact segment
"With our recent sales successes and record growth, the current product offensive will further strengthenInfiniti's global market position. The active crossover, QX30, joins our new premium compact family and will broaden our offer to new customers around the world."
Roland Krueger, President of Infiniti.
Further fulfilling Infiniti's promise to expand its product line-up based on popular concept car designs, the arrival of the QX30 premium active crossover comes at a moment of opportunity for the Infiniti brand. Alongside the Q30, revealed in September 2015, the QX30 will play an integral role in Infiniti's promise to offer customers a broader range of premium products. The QX30 adds another dimension to Infiniti's premium model line-up, and will play a vital role in the brand's global growth.
2015 was a record-breaking year. Infiniti sold 215,250 new vehicles worldwide, representing an increase of 16% compared to 2014. In Western Europe, sales went up by 45% to 7,000 vehicles. In the Middle East, customers bought more than 8,300 Infiniti vehicles in 2015, up 18% from 2014, making Infiniti one of the fastest growing brands in the region.
As a member of the new premium family, the QX30 gives Infiniti a great platform from which to achieve its goals in key markets globally. It will be built at new manufacturing facilities in Sunderland, UK, becoming part of Infiniti's first car production in Europe.
The high demands of premium vehicle manufacturing require significant investment and a highly skilled workforce. Establishing a production base for the Infiniti QX30 represented a new £250 million commitment in plant extensions totalling over 25,000m2. A successful recruitment programme was conducted, filling over 300 new jobs to support production, while 4,000 existing production line staff were given special training to meet exacting Infiniti standards.
Older

Articles