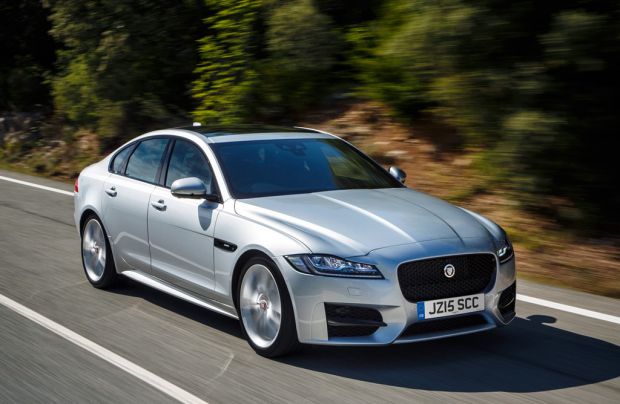 Jaguar triumphs at SME Company Car of the Year Awards
27th January 2016
Jaguar scored a hat-trick of victories at the SME Company Car of the Year Awards, including the Car of the Year. The Jaguar XE 2.0d R-Sport 163PS won both the Company Car of the Year and the Best Large Company Car awards, while the all-new XF 2.0d R-Sport 180PS won the Best Director's Company Car award. The awards come after XE was also voted the Business Car of the Year by experts at the prestigious Business Car of the Year Awards.
Launched last year, the all-new Jaguar XF is lighter and more efficient than the previous XF thanks to its new aluminium-intensive architecture. It now offers unrivalled refinement, dynamics and design, as well as segment-leading rear leg room.
Ralph Morton, Editor of Business Car Manager, said: "The Jaguar XF wins: great price, good design and desirable. What more could an SME director want from a company car? Apart from having it in their slot in the company's car park. No doubt the order's on its way…."
The Jaguar XE is the driver's car in the premium mid-size saloon segment but also offers outstanding total cost of ownership thanks to class-leading residual values* and fuel economy as high as 75mpg – qualities that have been wowing fleet buyers and users. XE was also named Business Car of the Year at the 2016 BusinessCar Awards yesterday.
Morton said: "No Jaguar has ever been able to crack the sub 100g/km emissions barrier before, yet the XE does this and still delivers driver appeal by the bucket load. And then some.
"As well as the appealing sporty looks, the Jaguar XE in 163PS 2.0d R-Sport trim, won because of its 75 mpg combined fuel economy and CO2 emissions of just 99 g/km thanks to its British built Ingenium engine.
"It really is a case of having your cake and eating it with this version of the Jaguar XE: it combines low running costs and low tax bills with an equally high level of driver satisfaction and real company car appeal. No wonder our panel of independent judges also gave this Jaguar the top accolade – the SME Company Car of the Year. Congratulations to Jaguar. A car to really make a difference to the SME business sector."
Jaguar Land Rover UK Managing Director Jeremy Hicks said: "The all-new XF has managed to improve on the old model in almost every single way. It's better to drive, better quality, comes with more technology, offers more space and is more efficient. We're glad to see the judges of SME Company Car of the Year Awards agree.
"We had hoped that the Jaguar XE would appeal to company car users with its class-leading residual values and value-for-money service plans and we are delighted with just how warmly it has been received."
- Ends –
Older

Articles