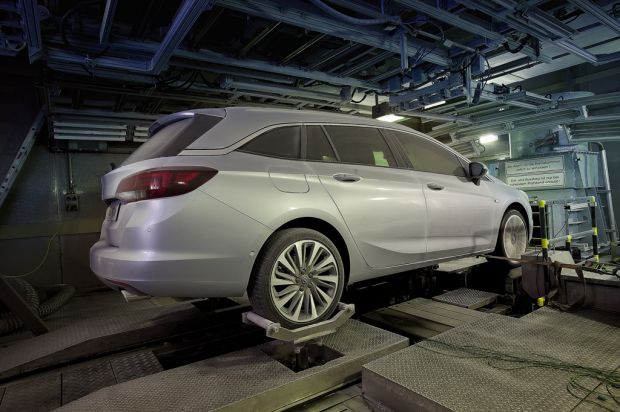 All-new Astra Sports Tourer is tested for toughness
20th January 2016
Vauxhall's all-new Brit-built Astra Sports Tourer has been to the very extremes of climate testing, so it can defy the coldest of winters or the warmest of summers.
Vauxhall/Opel's International Technical Development Centre (ITDC) reproduces conditions comparable to the Sahara desert. In Rüsselsheim, Germany in the middle of winter, the mercury is at 60 degrees Celsius and the sweat is pouring. In the middle of it all, the new Astra Sports Tourer defies the adverse conditions.
One day later, same place, same time, but the observer is confronted with a completely different scenario: the Astra Sports Tourer is all wrapped up in a white outfit that is covered with a thin layer of ice. The vehicle's spacious interior is not visible from the outside, as the windows are completely frozen over. The temperature is -40 degrees, and without warm winter clothing no one can last in here.
"We want to see how the materials in the Sports Tourer react to extreme conditions. We also check if its appearance changes and if extreme heat or cold have an effect on, for example, gap width," explains Otto Hemmelmann, Lead Engineer Test Methods. With his interdisciplinary team from various specialist areas, he is responsible for this foray into scorching and freezing conditions.
The heat and cold test bench, also called thermal cycling testing, is part of the compulsory program in Vauxhall vehicle development, just like the acoustic and electronic lab tests. "After all, our customers around the world drive the Astra in all different climate zones," says Hemmelmann. A complete production series Astra Sports Tourer is tested. This ensures that the exact materials used in customer vehicles are put to the test.
The team's systematic examination puts a special focus on the installed plastic parts such as bumpers and side sills. "The gap width is extremely important in these cases, because of course the components must not be protruding." Employees from the respective specialist areas also check all functions in the interior. For instance, does the glove compartment open smoothly and easily? Can the FlexFold rear seat back be seamlessly adjusted in all situations? And above all, does the sensor-controlled tailgate also open and close at -40 degrees with a simple kicking motion under the bumper? After all, this practical function makes its premiere in the new Astra Sports Tourer. Only when all components, body and add-on parts are tested and cleared has the Astra Sports Tourer passed the thermal cycling test – and then it is ready for its daily job as a comfortable business or multi-functional family car.
Older

Articles