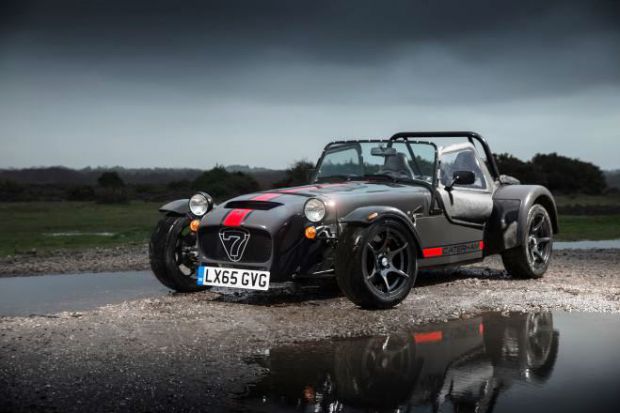 New 'mildly saner' 620S joins the ballistic Caterham 620R model
14th January 2016
Caterham Cars has introduced the 'S' Pack and the wider-bodied S5 chassis as options for the fastest road car it has ever produced.
The Seven 620S is the mildly saner, more road-oriented sibling of the ballistic 620R and features comforts such as a full windscreen, hood and side screens, as well as leather seats.
For the first time, the Seven 620 can also now be specified with the wide-bodied S5 chassis as an option costing £2,500. The S5 is wider and longer than the standard S3 chassis, providing an experience better suited for more generously-proportioned customers, with other benefits including added interior and luggage space and increased range thanks to a larger fuel tank.
The 620S,priced at £44,995 (incl VAT) fully built, joins the 620R at the summit of the Seven range by harnessing the same 310bhp two-litre, supercharged Ford Duratec engine to deliver outrageous performance for those drivers who feel that the iconic Seven just isn't barnstorming enough.
Delivering a new driving experience, the 620S has been tailored for road drivers, with a five-speed manual gearbox instead of the 620R's more race-inspired sequential 'box.
Like all Sevens, the 620S adheres to Caterham's philosophy of delivering a very special brand of unapologetically raucous fun.
Meanwhile, Caterham's traditionally minimalistic approach to the engineering of the car is ever-present, with the carbon fibre interior panels and dash and lightweight flywheel of the 620R installed to save kilograms vital to the car's trouser-worrying performance.
The car features the creature comforts of the 'S' pack available throughout the Seven range such as a heater, full windscreen, hood and side screens and leather seats. However, while the 'S' pack features road springs and dampers, the uprated brake master cylinder and limited-slip differential are taken from the 'R' pack to ensure optimum performance.
The styling continues with the 620R's 13" wheels replaced by 15" Orcus anthracite alloy wheels fitted with more road-suited ZZS tyres.
Customers looking to venture out in colder conditions can now experience the warming delights of heated seats in a Caterham Seven for the very first time. Heated carbon seats are now available as an option on all models in the range.
Orders are now being taken for the Caterham Seven 620 with the 'S' pack and the S5 chassis options, with first deliveries expected later this year.
Older

Articles