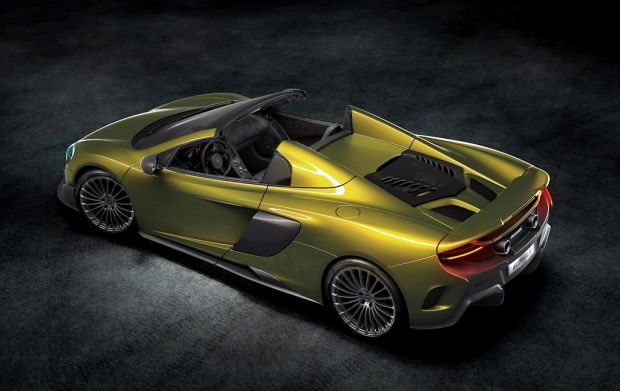 McLaren reveals 675LT Spider
4th December 2015
McLaren Automotive has revealed the latest chapter in the history of the iconic 'Longtail' name with confirmation of the 675LT Spider. Strictly limited to only 500 examples worldwide, it is only the second model to wear the LT badge. This latest model comes less than a year since the first model in nearly 20 years resurrected the name, and is in response to significant customer demand. The 675LT Coupé focused on light weight, enhanced aerodynamics, increased power and track-focused dynamics, and this limited-run model quickly sold out before the first deliveries commenced. Sharing these key characteristics, McLaren Automotive now presents the most focused, fastest and exhilarating open top model to ever wear a McLaren badge.
The 675LT Spider, priced at £285,450, is the fifth new model debuted by McLaren Automotive in 2015 in what has become a defining year for the British brand. This latest model joins the McLaren P1™ GTR, 570S Coupé and 540C Coupé, and the fixed-head 675LT Coupé as new to the line-up, and further strengthens the Super Series range.
Under the skin of the 675LT Spider sits the heavily revised 3.8-litre twin turbo V8 powertrain from the coupé sibling, ensuring performance figures are worthy of the LT – or 'Longtail' – badge. The power output and torque figures remain unchanged, with 675PS (666bhp) delivered at 7,100rpm and 700Nm (516lb ft) available between 5,000-6,500rpm. The changes to the powertrain saw more than 50 percent of the components replaced to ensure optimised levels of power, torque and drivability. These include new, more efficient turbos, detail design changes to the cylinder heads and exhaust manifolds, new camshaft and lightweight connecting rods, and a faster-flowing fuel pump and delivery system.
Acceleration from 0-100kmh (0-62mph) takes just 2.9 seconds, and 200kmh (124mph) is achieved in 8.1 seconds – giving away only 0.2 seconds to the more aerodynamically optimised and lighter coupé. Controlled torque delivery in first gear manages torque to 600Nm (443lb ft) to ensure maximum acceleration, and minimising wheel slip. Top speed is 326km/h (203mph). Despite these blistering performance figures, the 675LT Spider returns 24.2mpg on the EU combined cycle, while CO2 emissions remain at 275g/km – the same as the coupé. A three-piece retractable folding hardtop can be opened at speeds up to 30km/h (19mph) to allow for a new level of open-air exhilaration.
As with the Coupé, production of the 675LT Spider will be strictly limited to only 500 examples, with first deliveries in summer 2016.
Older

Articles