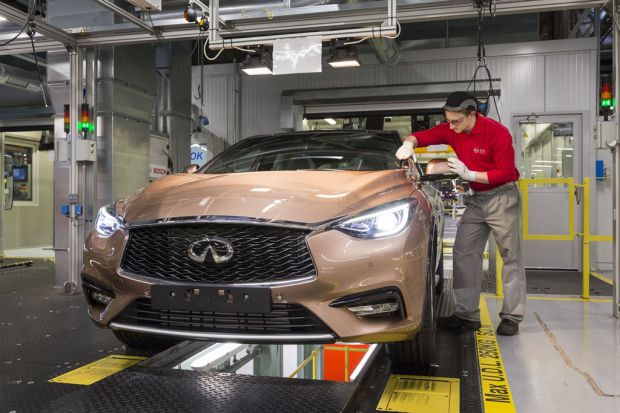 Infiniti Q30 officially starts production in Sunderland
3rd December 2015
Infiniti starts production of the Q30 active compact today in Sunderland, UK, as the first vehicle officially rolls off the assembly line.
The first new Infiniti Q30 vehicles are now in production at the brand's newly-built facilities in Sunderland, UK, following a £250m investment that has created 300 new jobs.
Infiniti's first compact model,the Q30, is also the brand's first vehicle to be manufactured in Europe. As part of its global growth plan, Infiniti vehicles are now built in five plants in four countries on three continents.
Trevor Mann, Chief Performance Officer of Nissan Motor Corporation, today joins Roland Krueger, President of Infiniti Motor Company,and the 6,700-strong workforce in Sunderland to mark the latest milestone in Infiniti's global expansion.
Mann says: "Today we are beginning an exciting new chapter in the Infiniti story, and I can't think of a better place to start than here at Nissan's Sunderland plant. Over its 30 year history, Sunderland has grown into the UK's largest automotive plant. It is renowned for delivering high-quality, top-selling vehicles, and is regarded as a world-class production facility with a highly skilled and dedicated work force.
"To prepare for Q30 production, we invested 250-million pounds here in the UK. This is creating more than 1,000 new jobs in the UK automotive industry. Q30 production is further strengthening our premium vehicle manufacturing capability in Sunderland, and exports to global markets such as China and North America signal the next phase in the expansion of Infiniti and a new chapter for our UK plant."
The decision to build the Q30 in the UK was made in 2012 in recognition of the outstanding quality standards reached by the workforce in Sunderland over many years. Since then, the plant's journey to Infiniti has created a new generation of premium car builders, with an unprecedented training programme for 4,000 staff in the requirements and expectations of Infiniti customers.
The workforce also includes a select group of newly-appointed master craftspeople. At each stage of the production process, they ensure every individual Q30 meets Infiniti's premium manufacturing standards.
Infiniti is the first new car brand to be manufactured on this scale in the UK in 23 years, supported by a £9.2m grant from the UK Government through the Regional Growth Fund.
The UK's Secretary of State for Business, Innovation and Skills, the Rt Hon Sajid Javid MP, says: "Our automotive sector is the most productive in Europe and that is no small part down to the way government and industry have worked together to develop advanced manufacturing. Today's announcement demonstrates the strengths of the Northern Powerhouse, with Nissan Sunderland producing models never made outside Japan, China or the US.
"The £250 million investment has not only secured 300 highly-skilled jobs but will also boost our exports, even more so once the premium Infiniti QX30 model goes into production next year."
Older

Articles