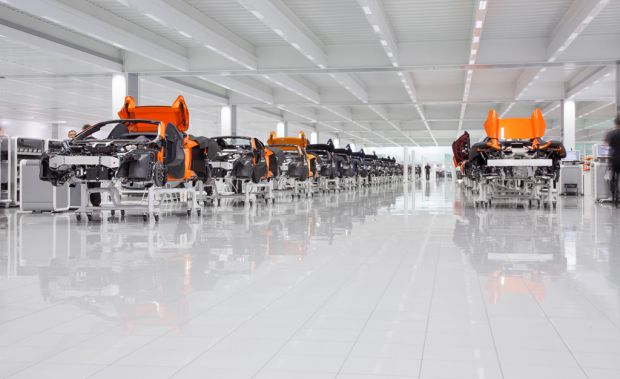 Mclaren Production Centre wins Manufacturer MX Award
28th November 2015
The McLaren Production Centre (MPC), the world-class McLaren Automotive production facility in Woking, England, won the 2015 Manufacturing In Action Award at The Manufacturer MX Awards last night. The award, in association with the Institute of Mechanical Engineers, is presented in conjunction with the editorial team of The Manufacturer magazine.
The Manufacturing In Action Award is presented to the company that best demonstrates an efficient, modern and profitable business with examples of product excellence, innovation and customer satisfaction. It also focuses on the investment of the company in people, training, effective management and efforts to become more sustainable in both process and products. The McLaren Production Centre triumphed over other shortlisted companies such as Brandauer, Brompton Bicycles, Naylor Industries, SPI Lasers and Torin Sifan.
Upon receiving the award, Alan Foster, Executive Director of Operations for McLaren Automotive commented:'This important award is a great recognition for all of the team working at the McLaren Production Centre in Woking, and another sign of the continued development of the company. It is a real pleasure for myself and Andy Piatek [Executive Director – Manufacturing] to lead such a strong team, and we are very proud to have created the world's finest car production facility. Since assembly started in 2011, more than 6,000 vehicles have been produced by a talented team of production engineers. The recent start of production of the McLaren Sports Series is just the latest in the long line of milestones for our state-of-the-art production facility.'
The Manufacturer MX Awards were formed in 2015 by the merger of two of the industry's high-profile awards: The Manufacturer of the Year, run by The Manufacturer magazine and the Manufacturing Excellence Awards, run by the Institute of Mechanical Engineers. With a combined history of over 40 years, the new awards are designed to encourage and promote competitive manufacturing in the UK, and celebrate the industry's best annually.
On presenting the award, Nick Hussey, CEO of Hennik Group, publishers of The Manufacturer magazine said;'The McLaren Production Centre was the most breathtaking manufacturing facility I have ever seen. The attention to detail, not only in the products but also in the facility, and the way people focus on their work, has provided a beacon for other manufacturing businesses in the UK. This is truly a world class manufacturing organisation.'
Older

Articles