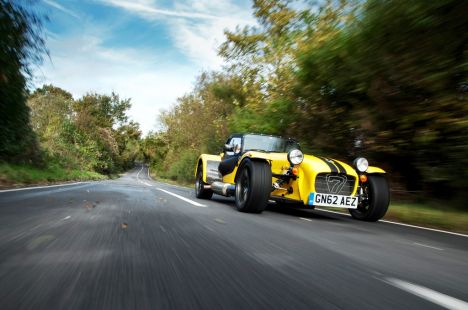 Caterham adds to Seven range with Supersport R
9th November 2012
Caterham has added to its iconic range of Sevens, giving the acclaimed Supersport a steroid-induced brother – the two-litre Supersport R, which packs 180bhp and track-bred dynamics.
Like the standard Supersport, the new edition has many circuit-orientated performance essentials, but gains a bigger engine and a five-speed gearbox to boost outright performance significantly.
Designed to sit immediately above its 1.6-litre sibling in the Seven range, the new adaptation's 2-litre Ford Duratec engine has proven its durability and performance on the track, having been developed during three years in Caterham's R300 race championship.
Competitively priced at £24,995 (incl tax) in self-build form or £27,995 fully-built, the new model benefits particularly in mid-range 'punch' and features a 25% power increase on the Supersport, as well as 5bhp more than the R300 road car.
Caterham Cars' Chief Executive, Graham Macdonald, said: "The Supersport's formula has struck a chord with driving enthusiasts and we are confident that, by extending the range to include an R model, we will be able to build on the original's success.
Older

Articles