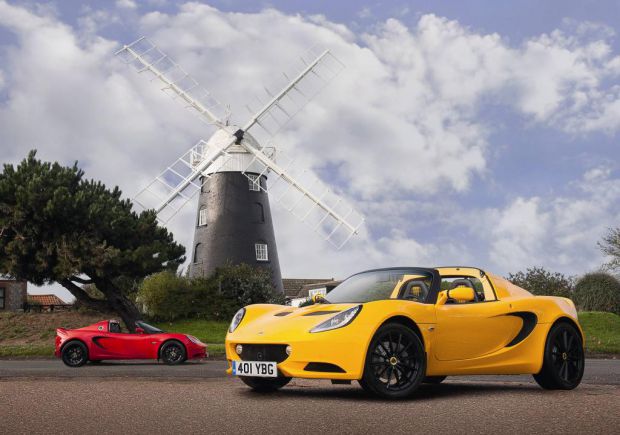 Lotus announces new Elise models
14th November 2015
The Lotus Elise Sport and Elise Sport 220 mark a return the iconic 'Sport' naming designation, used previously on the famed Lotus Esprit and with it the Lotus Elise package becomes lighter, and even more performance-focused.
Jean-Marc Gales, CEO of Group Lotus plc, commented, "We have further refined, distilled and sharpened the driving experience offered by our best selling sports car of the last 20 years, the Lotus Elise. These two new models, the Elise Sport and Sport 220 revive the iconic 'Sport' naming designation and are both worthy of wearing this badge.
Both the new Elise Sport and Elise Sport 220 benefit from a significant weight reduction of 10 kg, a result of the continued central design philosophy of Lotus – 'lighter, faster' and the perpetual quest to reduce weight of all constituent parts and in some cases remove unnecessary parts altogether.
The Elise Sport 220 represents the perfect blend of power and dynamism in a more focused performance package. Weighing just 914 kg, with peak power of 217 hp and torque of 250 Nm, 0-60 mph (97km/h) is achieved in just 4.2 seconds, and a top speed of 145mph (233km/h) is possible.
Lightweight sports seats in leather, Alcantara or classic tartan trim as an option are a further sign of sports intentions. First introduced in 1976 in the Lotus Esprit S1, tartan interior references a time when making a statement was everything, a concept still central to Lotus' design philosophy.
With reduced weight comes increased efficiency and a reduction in fuel consumption, a power to weight ratio of 155 bhp/tonne for the Elise Sport and 237 bhp/tonne for the Sport 220 the result. Fuel consumption is an impressive 56.5 mpg (extra urban) the Elise Sport and 47.9 mpg (extra urban) for the Sport 220, further cementing the Elise's tag as one of the most efficient sports cars in sector.
Alongside a weight reduction is a reduction in price. The Elise Sport model is now priced at £29,900 / €39,900 (MSRP) with the Elise Sport 220 priced at £36,500 / €48,700 (MSRP).
Older

Articles