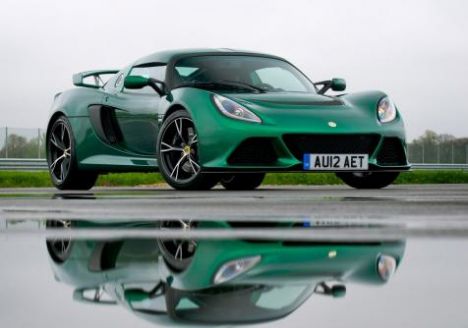 Lotus Exige S voted joint winner of Evo's 'Car of the Year 2012'
7th November 2012
It is with great pride that Lotus announces its success in securing the top honour from evo magazine's gruelling 'Car of the Year' test, marking the huge achievement of the entire Lotus workforce to bring to life the hotly anticipated Exige S.
Since the Evora (previous evo COTY winner itself) was launched in 2009 the question resonated, "when are you going to put that 3.5 V6 in an Exige?" the appetite for power on a lightweight platform was huge and this is pure Lotus territory.
So, with the S2 Exige reaching the end of its lifecycle and the demand for its successor high, the challenge was set, a task force was assembled and work started to create the most exhilarating road car in Lotus history – and that is some benchmark to set ourselves!
Exotic designs were drawn, clever architecture and engineering strategies were forged and dynamic mule cars soon started testing. It wasn't long before the covers came off the prototype at the Frankfurt motorshow in 2011 and the Exige S graced the world with its presence. The new Lotus was heralded as a thing of beauty and since that day the phones at Lotus have not stopped ringing with eager prospects and journalists desperate for a drive!
Now, with an army of valued customers in tow and extensive road tests under its belt, the supercharged 3.5 V6 Exige S realises its destiny!
Weighing-in at 1176kg, capable of reaching 62mph from standing in 4 seconds and with a power to weight ratio of 293bhp/ton, brimming with 400 Nm / 295 lb ft of toque (@ 4500rpm) – the Exige S* really is something special! Scrutinised by evo's panel of experts and pitted against the best offerings to the sportscar market this year, the Exige S ties with the Pagani Huayra for first place in the toughest test in the industry.
Battling against nine opposing candidates to make the top six selection in a high octane shoot-out on road and track, and then taking on the giants in the final round on some of Scotland's finest driving roads, this couldn't be a more exciting win for the "gorgeous Exige S".
Older

Articles